Hey everyone -
to Thursday's entry...........I was actually gonna start this entry laughing heartily.............why I hear you cry?? Well yesterday was the day of the Scissor Sisters gig and the weather was absolutely miserable, which I think was small justice for the fact that I couldn't go LOL at those people who were queueing *evil laughter*
So let's see what is there to tell you about?? UK Music Hall of Fame is on at the mo...........ROGER's been on already and inducted Led Zepplin ~ waiting patiently to see him play drums for the George Martin tribute thingy :-) Go roger.........*girly giggle* LOL
Everyone must join me now in singing Happy Birthday a tad early for my brother ~ whose birthday is tomorrow :-) Nah, don't worry peeps I won't subject you to my horrible singing voice again lol I have remembered to send him a card so he should get that tomorrow (thanks mum for reminding me when it is LOL)!!
This week at work has been one of the toughest ever!! We have this new system that payments towards the invoices gets entered on and ever since it was brought in we've had nothing but trouble!! The first query this week came from some person who received an invoice showing two lots of charges, but they reckoned they'd paid one lot in cash at the post office. So I go and query this to no avail and ring them back for more information only to be told it's all sorted. The woman at the post office hadn't taken the slip so had kept the money in the safe until someone complained about it!! Could've told me!! Grrrrr.....................
Second another payment gone missing ~ this time the rep sent copies of proof of payment by recorded delivery ~ only we've not received it!! So I've been on a wild goose chase to try and locate it!! I went to despatch who passed it to cashiers, who then asked some woman in IT services to sign for it who couldn't remember who she'd passed it to. Emails to other people finally track it down to possibly the room next door. Enquire with them and they haven't got it!! I felt so tired by the end of dealing with all this....................They've agreed to write off the amount, as the rep is so adamant that she's paid it and to go to that much trouble proving it we have to agree. It's just utter madness that a piece of recorded delivery can go missing like that ~ i tell ya nothings safe these days!!

Enough of work talk ~ well actually after all that I was too tired to come home and clean, which I should've done coz people maybe staying tomorrow!! We're off to see the best Queen tribute band ever Ga Ga :-) Those regular readers will probably my story of Trina and I going to see them last year and partying with the band (well okay a couple of drinks at the bar ;-) lol This time Trina has encouraged our close living Queenie mates to come down for it, so I think Becky, Dan, Fairy and Kev are making their way down ~ should be a good night and I am looking forward to it!!
This is turning into a long entry just a couple more things bear with me peeps xx
I received my Cujo DVD today and I have to gripe about it!! So far I've only seen the cover of the damn thing and I'm moaning already lol...........On the cover it looks like the woman is holding a gun..........there was no gun in the book, well ok there was eventually but it was thrown into the grass and not mentioned again!! Also she's wearing a dress ~ in the book she had jeans on!! The cover says the boy is six years old, he wasn't he was four!! I don't think it's sticking rigidly to the book here!! Anyway I shall watch it soon and give it a chance lol.........
I won my ebay item that I mentioned the other day ~ it's actually a mag about the Foo's :-) It was produced by Metal Hammer and only sold in WHSmith ~ I thought I was going to get outbid and paid a little more than I had hoped for but never mind...............it's mine *rubbing hands together with an evil glint in eye*
Started reading Danse Macabre - even though my books are in alphabetical order of title the next few are all Stephen King :-) Well he is my favourite author!! So that helps..........
I shall end this entry here and go wait for the gorgeous roger to appear on my TV again :-) grrrrrrrrrrrr..........another break.....soon be on I hope.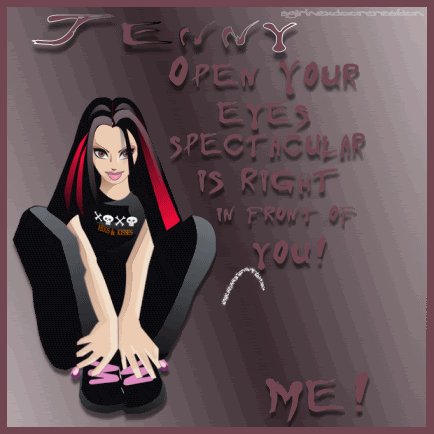 Thanks Terryann for this sig xx