Hiya peeps - hey how are you doin?? I've had one of the worst weekends ever...................I shan't go into too many details but do you remember last week I said I was going to see Miss Fairy in one of her plays ~ well we didn't go in the end!! We went all the way to Taunton, did some shopping (I got two cd's and two dvd's :-), had a meal in Weatherspoons and then half way to Wellington decided it was best for all concerned if we went home instead ~ got home in a bad mood!! Decided to just sit and watch TV for the night so ended up watching Casualty, Volcano, saw Peter Kay on Parky (very funny), and other stuff. Didn't go to bed till quite late *tut tut*
Today I got up quite late and went for a walk all the way round the river. When I got home I put my key in the lock of the main front door to the block of flats and it wouldn't go in!! After about 5/6 times of trying I freaked out ~ I didn't have my mobile on me or any money!! After a little while of trying the key over and over and figuring that no-one was leaving the block and no-one was coming home...........I decided to ring a couple of the flats to see if anyone was home to let me in. No answer.............try another one............no answer.............try my key again, it fits in perfectly and opens the door ~ weird or what?? Tomorrow I'm gonna take both the keys that open the front door and see what happens - wish me luck LOL
Other than that I've watched Calendar Girls (one of the DVD's I brought - very good film) and read a few alerts..........so I think I'll continue with my LostProphets story.........enjoy xx and I hope you like the photos :-)
About 9.30pm the Prophets came onstage (we had a pool going again and I have a feeling Wayne won again!! – damn it) and started with Wayne's favourite song from the new album. The band was on fine form and laughed and joked with the audience. I couldn't really see much so I don't have favourite bits I'm afraid!! I just remember that we spent most of the gig head banging as the view wasn't that great and there were no big screens or anything like that!! We took a picture of each of us head banging it looks quite funny! Because I was sweating so much I remember sweat getting into my eyes a lot of the time so when I tried to stand still and just enjoy the gig I found I couldn't. It's compulsive that I must move to the music lol…………………We tried wiping the sweat off with Wayne's t-shirt, first he had it, then Trina and then me. By the time I got it, it was soaking so I found myself rubbing over people's sweat on me lol…………*disgusting*
There wasn't much of an atmosphere where we were standing but I think we created one of our own!! It certainly helps when there's a small group of you coz you look across at the others and they're dancing away, having a good time etc. As I mentioned before the band were on fine form and at one point the singer was remarking how hot it was and started talking about the people upstairs sitting down and how they probably weren't sweating as much coz they weren't moving around much. I can't remember how it went properly but there was mention of the fact that heat actually rises and they were probably sweltering more than we were lol……….trust me it was funny but clearly a case of you had to be there!! The songs I remember them doing are: To Hell We Ride, Burn Burn, Last Summer, Last Train, Everyday Combat, 4am Forever, Rooftops, New Transmission, Everybody's Screaming, Town called Hyprocrisy, Start Something, etc…..
When the gig finished we tried to make our way back to the car. Lots of people all walking down the same stairs ahhhh…….we waited till it calmed down a bit but got chucked out!! Trina brought another t-shirt, this one has red and black stripes so she has since been nicknamed Dennis the Menace. On our way back to the car a discussion about which was the best gig ensued. Wayne thought the Prophets (which I suspected) and I disagreed and thought the Foo's. Come to think of it I haven't got a clue which Trina preferred but I would probably say the Foo's. I managed to get to bed just after midnight and unfortunately had to be in work the next day. Boy, did I ache?? My neck was once again killing me – note to self stop headbanging!!
Anyway we all enjoyed the gig though and they are touring again in November and once again coming down our way but we can't afford it. Next time without a doubt!!
In way of an update to this ~ Trina found out on Friday that they are touring again next year and we have discussed the possibility of going but they aren't coming down here :(

On a completely different subject the Scissor Sisters are playing Exeter on Wednesday and guess who isn't going ~ yep yours truely ~ I would've loved to have gone but Trina isn't into them and by the time I was informed mum would've come with me it was too late to get tix :( The radio station have been going on about it all weekend - the gits!! LOL No I'm not bitter ;-)
Right I better go before this turns into another essay lol, just before I do though as you know I watched Volcano last night ~ well earlier I was looking up websites about Exeter ~ apparently the high street is built on an extinct volcano....................hmmmmmmmmmmm something to think about lol.............
Till next time peeps xx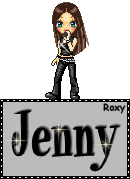 love this sig - Thanks roxy xx (link in the other journals bit ;)