Hello everyone :o) How are you all? I've got my alerts down to 67..............aren't you proud of me?? Well I am lol.............
To be honest I have nothing to say as I haven't really done anything since yesterday. Well I have downloaded some stuff but you won't be interested in that!! I did have an idea for an entry which came from my MP3 player the other day. (No it didn't talk to me you silly people ;-) When I was choosing songs for it I thought about putting a selection on there that would sum up 2007 for me :o) I was going to share this with you. As it took 25 songs I may have to do this in seperate entries..............
But then I thought, why? Who would really be interested apart from me? So I shall just list them for now, if you wanna know more tell me in the comments and I shall expand (not personally I'm a big enough lady as it is thanks lol)
These are in no particular order...........just the random list my MP3 player came up with lol
A Million Ways - OK Go, Leave Me Alone - Pink, Very Young - Charlotte Hatherley, Flowers In The Rain - Kaiser Chiefs, Band on the Run - Foo Fighters, But Honestly - Foo Fighters, Learnt My Lesson Well - Kaiser Chiefs, Retirement - Kaiser Chiefs, Keep The Car Running - Arcade Fire, Wattershed - Foo Fighters, You Want History - Kaiser Chiefs, Never Missed A Beat - Kaiser Chiefs, Say It's Not True - Queen/Paul Rodgers, Heavy - Parva, Hessles - Parva, Scu22 - Parva, The Pretender - Foo Fighters, Nobody Move Nobody Get Hurt - We are Scientists, Let It Die - Foo Fighters, An End Has a Start - Editors, Mens Needs - The Cribs, Here It Goes Again - OK Go, Loves Not A Competition - Kaiser Chiefs, Stranger Things Have Happened - Foo Fighters, Reptillia - Lost Prophets.
So there you go :o) Pretty good even if I do say so myself. I have just this minute changed it though lol............I'm very picky when it comes to choosing songs for the MP3 and I'm gonna use it tomorrow on the train to Trina's.
Yep I'm off to Trina's for New Year. I expect we shall have fun whatever we end up doing. Hang on, I'm sure I said I was gonna have a reminiscent entry before the new year...............let's see..............
* Got my first passport and went on a plane for the first time
* Went abroad for the first time EVER
* Went to a music festival for the first time EVER and had to sleep in a tent for the whole weekend *yuk*
* Turned 30 eeeeekkkkkkkkkkkk
* Saw the Foo Fighters a fantastic 5 times!!!! V festival counts as two ;-) You'll see why in the write up. So that was V fest, Dublin, Cardiff and London. Woohoo
* Saw Bill Bailey live for the first time and a lot of bands at V that I wouldn't necessairly go and see.
* Flirted with a very nice drunk bloke at the foo gig, and then snogged someone at a completely different gig a week later :o) *BIG CHEESY GRIN* I know for some that is not a big deal but for me it was. I had done something the old Jen wouldn't do!! It happened whilst waiting for a band to come on stage, so we had a bit of an audience lol...............
* Finally after waiting all year to see them we saw the Kaiser Chiefs live (that's my new obsession people!!) They lived up to expectations and soooooooooooooooo much more! What a day LOL ;-)
* Coped at work under very stressful situations etc. etc................
So what does 2008 have in store for Jen? Well we have a Linkin Park gig at the end of January and two Foo Fighter shows at Wembley in June :o) So excited about those two!! But other than that I have no idea but I really do think it's high time Jen found some romance.................Keep reading to see how that pans out lol...........
Just leaves me time to wish you all a VERY HAPPY NEW YEAR ~ I hope whatever you are doing and whoever you are with you have fun xx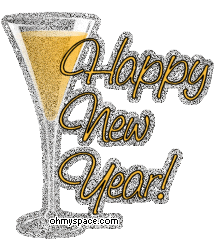 Love and Best Wishes to you all xx
Jenny