Hello everyone :o) How are you all?
Here's what is coming up in today's entry LOL................
* Ranting and raving
* Queen news WOOHOO
* and other random stuff
Hope you enjoy it ;o)
______________________________________________________
So isn't the weather dreadful today? It better not be like this tomorrow otherwise I shall get blown away on the way to work!! And soaked coz there is no way you can put an umbrella up in this......... Your probably wondering why don't I get the public transport?? Well this brings me nicely to my ranting and raving!!
Saturday I got up fairly early (for me anyway LOL) and I decided to venture into town before cleaning the flat for a change. So I walk up the road to wait for the Park and Ride bus which goes past this way!! I had just missed one as I saw it go passed when I was making my way up there!! Sat there for about 5/10 minutes when one is coming towards me, I fiddle with my headphones and get some money out, stick my hand out to signal it to stop and it drives by

I think okay, perhaps he just didn't see me or something and although slightly peeved I decide to wait for the next one. 10/15 minutes later and joined by a couple with pushchairs another one is coming towards us. Stick my hand out and YET again it goes passed. Now I can understand it this time, it looked full, but what was the excuse of the first one with hardly anybody on it?? I was seething now. The couple walked off so I followed them, probably with the same idea in mind to catch a bus from up the road. Only I don't ~ I walked all the way into town. Usually i avoid this coz it's all up hill but nope I did it anyway!!
After looking round the german market and buying some food stuffs from scumerfield I walked all the way home too!! There was NO way I was buying a tickethome via the bus. They don't deserve it!! I've never been truely angry with public transport but that first bus takes the sodding biscuit!! DAMN the EXETER public transport grrrrrrrrr......

Whilst I'm on a roll to moan and rant......I wanna ask you guys about this journal. I'm finding myself question why when I write about my events I only get a few comments and yet sometimes I get a lot more!! I don't get it ~ are you reading but not commenting? I know I've been down this route before moaning about these things and that comments don't really matter, but it is nice that if people are reading they let you know. I try to comment on every entry I read, but sometimes I ask myself why I bother when people can't be bothered with my entries!! If you are reading but not leaving a comment please try to comment at least once or twice to let me know you care??? Thank you!!
QUEEN news - they have reworked Roger's song Say It's Not True for the 46664 campaign, which is Nelson Mandela's fight against aids!! I should've told you all about it yesterday as it was available for a free download. Roger's voice is gorgeous and his drums are second to nothing!! It does sound good being rocked up but I'm still unsure about Brian's vocals and Pauls. Before this song was just sung by Roger and to me that was just fine

Never mind...............now we just have to wait patiently for the new album and the god damned tour!! I missed my beloved Roger on the BBC news on Friday ~ did any of you see it? Apparently he looked good :o) tee hee hee.............
Other random stuff.........mmmmmmmmmmm............what was that I wonder? Oh yeah, it's my ickle sisters birthday today!!

She is 10 years old, please wish her a happy birthday ~ she reads my journal as does my mum :o) Apparently according to my Kerrang calendar she shares her birthday with Foo Fighter's bass player Nate Mendal - Nice one sis lol
Oh there was something I wanna ask you guys.........I'm thinking about xmas cards and the following people I have addresses for..........unless I hear differently I shall assume you haven't moved and don't mind me sending you a xmas card. Those people are:
Jan, Lainey, Jeannette (Travels), Jayneee, Joan, Sandra, and Sara.
If you would like me to send you a card.........get your request in quick coz they shall be written this week ;o)
Well I reckon I've spouted on enough.........
So until next time..........hope to hear from you


J-land group hug!!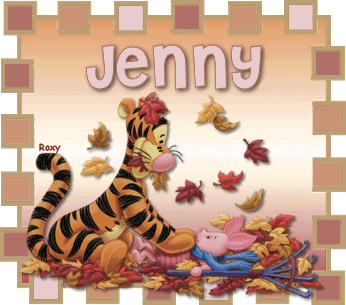 Thanks Shelly for the sig :o) ----------------- link over there somewhere!!