Hi Everyone in J-land ~ how are you all??

I was gonna leave a proper entry but I really don't know what to say. I have to confess that I have been lazy over the past couple of days regarding reading alerts. I promise I shall catch up during the xmas period. I finished work on Friday and don't go back till the 2nd ~ or at least I think that's when we go back lol ;-)
For a couple of days now I'm off to Mum's :o) I'm actually leaving in about an hour and when I spoke to mum yesterday she said she is cooking a roast today so that's means I can have some *yum yum* look out roast spuds here I come LOL Don't ask me what meat it is but the fingers are crossed for lamb. I love roast lamb most!! Mint sauce and roast spuds what more could you ask for lol..............I never bother cooking a roast for myself..............might try it in the new year who knows..........wanna be a bit more adventurous in my cooking during the new year. I wanna get some kitchen stuff in the sales this year :o)
I shall come back home Christmas Day ~ my brother will drive me back ~ apparently his fares have gone up as it's christmas day *rolls eyes* such a joker my brother lol.........
I'm sure I shall post another entry before New Years gotta let you know what I got for presents, cos that's very important isn't it?? (dear lord couldn't spell isn't then!!! Mental block lol)
erm.............................*trying to think of something else to babble about*....................
Did you watch Oliver Twist?? Good wasn't it!!
erm................................
Oh my neighbours!!! I was going to have a BIG rant about them!!! Hearing them move about has just reminded me about that!! A few nights ago I was woken at 1.30am by someone shouting rather nastily and swearing........it was the bloke who lives below my flat!! I couldn't work out what he was saying but I could work out the swear words unfortunately! Well it happened again last night. I went to bed late after a long phone call with Trina and doing some stuff on here. I was lying there nicely about to drift off when he kicks off again!! I am an extremely paranoid person, mainly because he had been slamming doors all day so I figured he wasn't happy about my music (I don't listen to it too quietly to be honest!!) So I gave up in the end and did something listening to my mp3 player aka through headphones (That was earlier not at that time of night lol just in case that didn't come across). So I lied there listening and well I still couldn't work out what he was saying but I have come to the conclusion he was having a domestic. Mainly because after he swore and moaned etc there was a break and you couldn't hear the other person's voice so it made me wonder if he was on a mobile!! (god I'm such a gossip lol) I'm very angry at him though. His shouting must've gone on for about an hour. It was gone 2am when I finally went to sleep grrrrrrrrrrrrrrrrrrrrrr.....................
Anyhoo............onto better things ;-)
I keep reminicsing about this year, I think compared to last year I have come on leaps and bounds as a person but I shall talk about that more in another entry ;-) I mean I have achieved so much which is pretty cool!!
So I reckon I shall leave you here. Just left for me to say to everyone in J-land whatever situation you are finding yourself in this year I want to wish you all a very happy xmas xx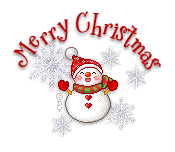 Love and hugs to you all xx