Hey everyone ~ how's you? Not long to go to Xmas now huh?? I woke up feelin' slightly more xmassey this morning!! Why? Cos I had the works xmas lunch to look forward to!! I won't waffle on about it too much but it leads me nicely into the next adventure I am going to share with you all ;o)
You see the boss decided this year was gonna be fun and slightly different. Before the lunch we had to pick names from a hat. Whomever got picked had to answer a question about the department and if they got it right they won a prize. One of the blokes working there who doesn't know me at all got a question about me tee hee hee........I'm gonna try it out on you lot and see who's been paying attention lol.........The question was: Who would Jenny most likely go to see in concert? a) Take That, b) Chris de Burgh or c) Queen? So peeps who would it be ;-)
Then at the actual lunch the boss decided 6 people were going to be awarded the first CFS awards. To cut a long story short I was one of them :o) He started it off by saying someone in the department turned 30 this year who remembers who that was.........lol I had told my boss about going to the Virgin music festival as he had asked what I was doing on my time off in August........so my award was for 'surviving summer music festivals whilst turning 30' I got a certificate and a xmas pressie ~ which I am saving for xmas day :o)
and that leads me very nicely to the next adventure.........which is: *drum roll*
V FESTIVAL WESTON PARK STAFFORDSHIRE FRIDAY 17TH AUGUST - MONDAY 20TH AUGUST 2007
For Wayne and Trina this year hadn't been the best and when Wayne had broken his back we had all been worried that he wouldn't have been able to make the most fab week of the year but luckily for us and for him, he was there to experience it all!! Trina and I had decided to do V Festival because the Foo's were playing and I had never been to a festival before. Telling everyone at work what I had the week off for was interesting, especially the stories from Jim and Jez about festivals. Even the big boss had told me to look after myself, bless him!! There was no escaping it now, camping and festival toilets I was about to experience them all!!
FRIDAY 17th AUGUST 2007
I had, had a lie in and felt ready for anything, even though it did not feel like I was going anywhere!! It certainly wasn't sinking in that I was going to a festival even though I had spent all week telling everyone!! I met up with Trina and Wayne at the train station, after lugging my bag through town to catch the bus to the station. That had been fun NOT!! On the bus though were the typical kind of people you would see at a festival (hmmmmm......I think I'm stereotyping here!!) and I was convinced they were going, but it turned out they were camping in Newquay, what did I know!!
We got some food and drink, the train arrived but it was extremely busy. Luckily as with all our trips Trina had booked us seats, so we managed to find them ok after securing our luggage with everyone elses. Unfortunately as there was 3 of us I ended up sitting next to some bloke with a lap top!! I couldn't help looking at it occassionally and kept thinking that Wayne should've sat there so they could discuss the games he was playing. I just put my mp3 player on and listened to it for the journey. The train announcer was getting quite stressed by the sounds of things and this is just to give you an example of how busy it was, he said that if he caught anyone with their bag on a seat he was going to charge them for it!! Some bloke and his little kid were sat opposite me and I couldn't help watching them for most of the journey too!! Mind you I hate it when people do that to me!!
We were on that train until Birmingham New Street and it had been fairly uneventful apart from the saga with the bags which I've already written about. Once at Birmingham we had to find the train to Stafford. We moved out of the way of everyone to check the board and what platform we needed. As we waited there were lots of people all around us and I said as a joke to Wayne, 'Here's a woman for ya'. It was a bloke dressed as a woman, surrounded by blokes dressed as priests/monks. The bloke must've heard what I said coz we all looked ateach other and just laughed. It had to be the funniest moment of the whole weekend!! We found out which platform we were on and then had to work out the lifts, which were very odd. To get to another platform you had to go down and then up!! When we got into the lift we were joined by a lady who appeared to be heading in the same direction as us as she had asked a guard where the Stafford train was. We found out she was actually working that weekend at the ground, I can't remember what she was working on. So we followed her/she followed us to the train and she helped Trina put her bag on the overhead carriage. This journey wasn't so long but I begged Trina for her mp3 player. Her's can hold more songs than mine and I already heard all of mine twice. That's the problem with a player that only holds 22 songs!! It still didn't feel like we were going anywhere, apart from the lady who was going to work we hadn't bumped into any other festival goers.
Eventually we get to Stafford train station. Although there was buses put on to take the festival goers to the site, we had agreed to meet up with Sarah who was driving and had been stuck in traffic for ages. She wanted some company, so we waited for her to come and pick us up. When leaving the station there were girls in not very much clothing giving out goodie bags for something or another. These included food, other stuff and condoms!! Outside the station were two girls trying to give away badges for some film or another that we had never heard off!! We all took two just to get rid of them!! We sat down outside the station and watched all the festival goers arrive in their wellies and carrying this that and everything, from tents to beer. There were ticket inspectors after a while at the exit and policemen turned up and started taking cans of booze off people. Every now and then they would come outside the station and pour them into a bucket. Wayne wanted to get more badges as he was coming up with wacky ideas of how to freak people out with their tents. Trina kept getting text messages and phone calls either from Sarah in traffic or Corina who had taken their tent in her car (she's also from Torquay and works with Trina) and set it up. She was moaning about how long it had taken to walk from the the car park to the campsite. She had taken Trina's tent as apparently her friends who were going with her said they weren't going now and she wanted to hangaround with someone she knew aka Trina!! So we watched as bus after bus and more and more people came and went. The lady from the train had got on the bus, just in case you were wondering!!
Sarah turned up eventually, she was a bit hassled as she had left home at about 10am/11am and had been stuck in traffic ever since. She was relieved she was going to have some company in the car. We got our bags in and Trina and I sat in the back. First Sarah seemed to drive down a road which was technically closed but she had followed another car which had done the same thing. We were driving for ages but didn't seem to be getting anywhere. Still we were listening to the Foo's so it was okay. It didn't take long till we hit traffic again and got stuck in a massive traffic jam!! Every now and then when we looked behind us at the traffic we could see a bus behind us, but at some point this disappeared. The people behind us must of thought we liked them or something as Trina and I were often turning round to look but not necessairly at them. Some blokes had decided to walk, so they would go past us. A little bit later we would drive past them, then they would walk past again etc etc..........this carried on for a while. One of them was wearing a Peter Kay 'Garlic Bread?' t-shirt. So to have a little fun we started shouting 'garlic bread' at him when we went passed but I don't think he heard us. If he did, he didn't make any gestures or whatever!! It was about 3pm when we got to Stafford, and we were in the queue and it was something like 5pm. Corina was panicking because we hadn't arrived and she told Trina about the directions the traffic were going in, which freaked us out abit. The entrance to the site was on the right hand side and instead of cutting across the road the traffic was being made to go up to the roundabout and turn round to come back down the right side. We went round a roundabout and down another road, going past a lot of cars on the other side of the road. Wayne, Sarah and myself kept making references to them that they had to go up and turn round and we didn't ha ha. It was very funny but inside I wasn't convinced we were on the right side for the entrance until we saw the guys with their flurescent jackets. Cheers erupted in the car!!
Although there were stewards in this area they didn't tell us where to park but we managed to find somewhere. After getting all our luggage together we set off to find the campsite etc. I had no idea where I was going so just followed all the other happy campers. The amount of stuff some people had was insane, but I reckon they were used to camping and knew what they needed unlike me. We had to go through a field, which had lots of cars in it, along a footpath which was full of stones and made dragging my suitcase quite difficult, across a narrow road, up another footpath also full of stones mud etc, then past one of the stages. It appeared to be the channel 4 stage so this was starting to get me excited. Most of this walk was uphill as well so Trina and Sarah weren't happy and made their feelings known. Wayne and I would walk on but he kept telling me to stop to wait for them. I thought that if I stopped that would be it and I wouldn't keep going. We went through a security checkpoint, they didn't check us though. I'm guessing it was for booze coz there was a bottle bin just before it. Some lad before us had a bottle of vodka or something and he was being told he couldn't take it in. He didn't seemed amused at this!! Then up the hill a bit further and another checkpoint only this time it was to be given our passes!! It was a wristband which read 'V festival Camping' on it!! So we were in and the next task was to find the campsite. It hadn't taken us that long to walk all that way!! I think with the suitcase and my arms starting to hurt, it did feel a bit longer!
Once inside we decide to get the goodie bag for £10 each!! This included a drawstring V Festival bag, a programme and the neck programme thingy which tells you what bands are on and when. I was looking at it and getting excited about the Foo's and trying to tell Trina but she got annoyed with me as she had rung Corina to find out where the campsite was. Apparently we were in the yellow campsite, so we carried on walking straight. Corina agreed to meet us at the entrance of the campsite so that she could show us the way to the tents. On the back of the neck thingy there was a camp map but the yellow campsite was in the very far corner of the right hand side of the page and didn't give us any clue whatsoever. We walked past lots of stalls and there were tons and tons of people either walking in the same direction as us or in the opposite. We came to a cross roads and decided to follow the signs up the hill. Halfway up this hill we realise that technically we were walking back on ourselves ~ whoops!! Eventually we found the yellow campsite though. More stewards here checking how many tents you have etc. I guessed that was the way they figure out if there is enough room for it.
This campsite was pretty much full up already and Corina true to her word met us inside the gate. She helped us work our way through the maze of tents and guide wires that were already up to where she had placed Trina's tent. There was apparently enough room for Sarah's tent. I got quite stressed trying to get my suitcase passed all these tents, plus I was tired from the walk. When we got to the spot for the tent, it appeared that Coreena and some woman called Maz had set these tents up so that they were in a little group which included a tall tent which was known as their pee tent!! Although there was enough room for Sarah's tent it felt like we were being pushed out. This put me in a worser mood!! Anyway they got Sarah's tent up and I put my case inside it and Sarah blew up her inflatable mattress. Unfortunately it was only a single ~ but if I was gonna be forced into camping, may as well do it properly. The suitcase took up my foot space but I said that I would sleep with my feet on the suitcase and it would be fine!! So I got my sleeping bag out and sorted that into position. Trina sorted out their tent and once we were all sorted it was decided we needed some food and we would go for a wander, see what the festival has to offer us that evening. The bands didn't start until 12.30pm the next day but we could see a fair ground so figured we could spend some time there.
This is gonna be a long one so please bear with me ;-) Also thanks to Jan, Joan, Sandra and Amy for my xmas cards :o)
Till next time xx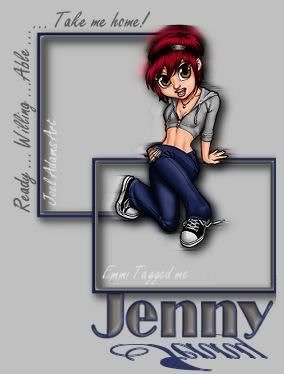 thanks to emmi for the sig :o) link in the sidebar xx