Yay Woohoo Yay Woohoo Yay Woohoo Yay Woohoo!!
My prayers have been answered people ~ c'mon join me in doing the stupid dance ;-) I promise you I am not going mad I shall tell you what's happened........
Last night I thought I would browse the Foo Fighters official website for some random reason or another :-) and there posted THAT day is the announcement that they are headlining the V Festival in August ~ that's in England WOOHOO!! Emergency phone call to Trina with toothpaste in my mouth (don't ask)!! Both her and Wayne are up for it and tickets go on sale on Thursday ~ please everyone I am begging you to keep everything crossed and to pray like you've NEVER prayed before that Trina will get hold of 3 tix!! She's doing it coz she's good at things like that and can make calls like that during working hours LOL.......................don't ask me how she gets away with it!!

I tell you something though people I really did think I was gonna have to go through the year without the snifter of a decent gig to look forward too!! Now not only do I have something decent to look forward too, I shall conqueur a first for me and that's a festival!! I usually end up watching the highlights on TV and thinking that it might be cool to be there but never do I think 'next year I'll go'!! Since last years Foo's gig though all 3 of us have vowed that if they come back we are going to see them ~ but not just that Trina looked up the rest of the line-up and so far it looks like this:
The Killers
Foo Fighters
Snow Patrol
Mika
The Kooks
The Fratellis
The Fray
Goo Goo Dolls
Manic Street Preachers
James Morrison
KT Tunstall
Damien Rice
Paolo Nutini
Primal Scream
Basement Jaxx
Babyshambles
Kasabian
Editors
P!nk
Happy Mondays
James
The Proclaimers
Not bad huh?? I shall look forward to the Killers as well as the Foo's!! I saw them on Jools Holland just before xmas and thought they were really good live and with a song called 'Jenny was a friend of mine' you can't go wrong ;-) LOL I also wanna see Basement Jaxx (their greatest hits album is good if you can stomach dance music lol), Manic Street Preachers (one and only time I've seen them live I was ill!!), Snow Patrol (downloaded their albums and have to say they sound good :-) and Pink (saw her new video this morning and it's a live one from her shows and she looks like a good entertainer with a bit of attitude lol).

Like I said peeps please cross those fingers!!
What makes me laugh is this!! I have discussed with Trina that we need to get back to Queen heads ~ we've not really been listening/watching them much lately so March was gonna be Queen Rehabilitation month. The first day of that month and Trina's gonna be trying to get tix to a gig where Queen aren't playing LOL.................Oh dear!!
This gig has sparked us to try and come up with our ultimate festival line-up. I said that if we added the Kaiser Chiefs (I'm feeling bitter about not going to their gigs this year) and Placebo we would have a good line up to those I have mentioned previously!! Trina mentioned Queen, Nirvana etc...............So c'mon peeps who would you see in your ultimate festival line up??
Apart from all this excitement I've been invited to some kind of discussion group for Jim at work's outside interest. I think he writes plays and I don't quite get what is going on so will have to ask him, but bless him to ask if I would be interested in taking part and forwarding me the email!! Get this though it's to discuss the works of Phil Collins LOL
I actually like Phil Collins ~ don't ask me why I just do!! I wish I could afford to go and see him perform with Genesis but the cost of the tickets but me off greatly. I think they were something like £66 *shock horror* Anyhoo I am going to ask Jim some more about it and might consider going ~ well what've I got to loose?? Plus from what I can tell of the email we get to listen to a Phil Collins track each time LOL Good music and meet some new people?? I'll keep you posted ;-)

On a bad note today my foot is really hurting and I have no idea why!! It was fine when I woke up, fine when I walked to work and when I bent down to get a file it started hurting. It killed me to walk home but I can't afford to take the bus!! Perhaps if I keep it moving it might do it some good. There is no bruising or anything like ~ the only way I can describe it is this: You know when you accidentially tread on a plug with the 3 pronged attack ~ well it's a bit like that, only constant. God knows what I've done!!
I tell you what though it's flippin' typical isn't it? Just when I get my exercising head on again something like that happens and I can't really do anything :( (Trina said that's an excuse ~ trust me peeps it's not at all!!)
I was thinking when I got home today that it's bad I've not heard from that job to say I haven't been successful isn't it?? I know I had kinda gathered it by now but even so!! Still tomorrow's job day in the paper :-) Won't be anything in there but still worth a look!! Work's still a bit crap at the moment, so what's new i hear you cry LOL
Well the day Trina's gonna try and get tix I'm meeting up with Dad and Greg. Well I suppose I am ~ haven't heard anymore about that!! I'm gonna be so glad though coz it means I'm gonna get back all my music from the computer drive that went wrong ;-) Plus I might get some of Greg's stuff ~ my computer will be excellent then, a varitable music feast tee hee hee...............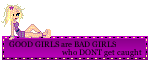 Well I reckon that's enough of me using the word well.............and I shall say ta-ra for now.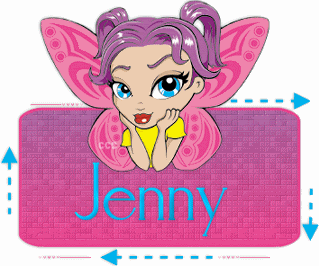 Thanks to Chocolate Cherried Creations for this tag xx
P.s no Jen Recommends today coz I'm too buzzing to think of something other than gaming sites at the moment lol