Hello everyone, I really don't have ANYTHING to talk about so if you would like to stop reading now ~ feel free to do so ;-)
There that's the warning over and done with lol............
Um..............where to start this entry?? I was thinking about it earlier and figured perhaps I would tell you my sorry tale with my father, but then I think you wouldn't understand and it would come across like I was being petty ~ so maybe not!!
Then I got a bit annoyed with Trina and figured I could moan to you about her, but she rang me earlier and so I'm not annoyed anymore ~ so maybe not again!!
What does that leave me with??
Work ~ nope too boring!! There is NOTHING to do and we are planning to do things that will leave us with less work next time!! I hate being super efficient at work!! Strange huh?? I just don't understand how we can finish all our accounts at the end of a week/a week and a half and the other team still have accounts to look at, at the end of the four week period??!! The mind boggles!! Mind you saying that they have been told they must do things differently ~ we shall wait and see whether they will or not!!
Jobs ~ Checked the paper ~ got excited coz I thought I'd found something to apply for and it's only a 10 month contract - DAMN IT!! There's a few things at the police ~ but I reckon that's shift work and coz I can't drive and local transport is crap and I'm not that great with shift work, it's probably not a good idea!! I'm pretty positive I haven't got an interview now for that other job ~ they were holding interviews on Friday!! I told Trina today I hadn't heard anything and this was for either of 2 reasons - 1) I am already in employment so can't start straight away or 2) because my application was rubbish and I should've tried harder!! Hey ho!!
Writing ~ because work is so crap I've been taking my ideas to work and typing some stuff up. There's nothing else to do!! I saw an advert on the board at work for a creative writing workshop for some time in April up in Bath!! I bet it's expensive ~ I think about things like that, like there was a course held at the college here for creative writing but then I think if I went I wouldn't be very good at it!! I don't know why, probably something to do with that damn confidence of mine. It's one thing to think your good at something but another if someone else thinks it too!!
Dad ~ I will mention briefly that I have not heard from either my brother or my dad so far!! If they ring tomorrow then screw them!! I have a busy schedule tomorrow night and if I can't achieve it then my whole system is gonna be thrown into disaray. Friday I'm planning to meet up with mum as her and Meggy-moo are coming to town!! As it's the school holidays and the bills are printed on Friday I am unable to have the time off ~ teamleader has school holidays off as she has a son!! I expect if it wasn't a bill run I probably would've been able to have the afternoon or something!! Hey ho x 2!!
Trina's fake birthday party entry is coming ~ almost finished typing that up at work ~ just got to put the finishing touches to it here at home!! Was gonna do that tonight but gave up on that idea lol...............
I have come up with an idea for my journal ~ kind off got the (ooo 3 sneezes ~ if I was at work I could go home now lol) idea from Lyn ~ she finishes her entries with her 5's, so I thought I might finish mine with recommendations ~ been recommending a lot lately so figured it would be a good way to do it ~ could be a film, album, song, book, magazine or website. So I think I shall start it tonight and see how long I can make it last LOL
Why do I always say I have nothing to write about and then drone on for ages??!! I'm a tease really aren't I?? LOL
Well I think I've lost my thread now so it's probably a good time to stop and let you get your breath back ;-)
Jen Recommends (must look up how to spell recommend lol)
Tonight it's gonna be a website. I was searching for games to play at lunchtime and came across this site ~ there are TONS of games to play. So far I've played reversi, battleships, 10 pin bowling, golf, air hockey, fowl word (great game), snake etc etc..............GO check it out if you are bored.................oh yeah you want the link don't ya LOL
Ta-ra for now xx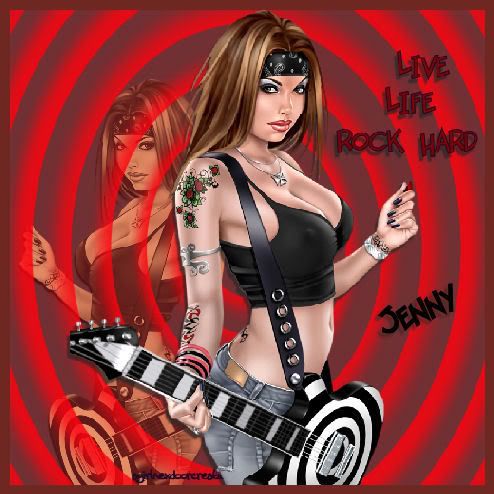 I love this tag from Terry Ann @ a girl next door looks just like the graphic I had in my about me section last month :-) And it quotes my life wisdom lol Rock on peeps xx