Hey everyone xx Thanks for the kind-off-i-told-you-so comments on the last entry :P You'll all be glad to know that I've had two days off work sick!! I'm actually feeling much better today but I thought oh, stuff it let's stay off another day ~ we've got no work to do anyway!!
Because I've been off and the brain hasn't been working (no funny comments please) I don't know that I've got a lot to ramble on about.......
Today I've been playing quite a lot of online games and trying to catch up on the journal alerts. I did manage to beat my top score on Hexxagon and am now in the line for trophy's woohoo :-) Time well spent!!
From a discussion I've had at work a few weeks ago I've tried to find out more about the London Underground but haven't been very successful!! It's hard to find out how it started....Many years ago is the best answer I can come up with LOL.....
The party entry shall come soon but I started writing it on Monday at work (again time well spent!!) Hopefully I shall have it written by the end of the week ;-) If not I shall just make it up and post it on Sunday. Talking of parties ~ I spent the afternoon chatting to my Queenie mates over the emails. It was a good laugh. I'm unable to do that at work!! (once had a disciplinary about emails ~ not going back there!!)
There are two things I hate the most about being off work and they are a) having to ring in to tell 'em your sick!! It annoys me coz you have to get up early and do it when all you really wanna do is lie in bed and get better. and b) going back!! I know it's gonna be a boring two days but I have to go back. Plus I have to post my application form for the other job tomorrow ~ praying that if it arrives on Friday they will still accept it *prays*
Had to laugh earlier ~ I did one of those email quizzy things, you know when you have to write so many numbers down and fill in the blanks with names, numbers and colours etc......then they tell you what it all means!! Well I filled mine in and Roger came out as a relationship that can't work LOL............It's only taken me what 20 years to realise that ROFLMAO I picked the song Breakout for one of the answers and apparently this is how I feel about life LOL...........Oh dear!!
I'm not mentioning valentines day *bah humbug* is how I feel about that!! Not just coz I'm single :P
Rung my mum earlier ~ going up to see them at the weekend. Should be a good laugh!! Have no money but we'll still eat out somewhere coz that's what we do :-)
Something else happened this week but I'll tell you about that at a later date coz I don't wanna write it here in case mum read's it and I wanna tell her in person to be honest!!
Does anyone know the song 'The Devil Went Down To Georgia'? I've just downloaded it coz they keep playing it everytime we go to Ejays and Trina said I should!!
Ooooo talking of Trina, Shelly aka Roxymama has been making a valentines day quilt and I thought I should add something even though I have nothing to say............reading some of the others though inspired me to write this:
Thanks Shelly for the graphic it's cool :-)
Have you been watching the Brits? Nah, me neither!! Load of rubbish!!
Ooooo look out for the Bad Mothers Handbook (starring Catherine Tate ~ I'm sure that's what it's called) advert they are showing on ITV1 ~ the end song is one of my faves from the Foo's accoustic album 'On The Mend' it's called. Freaked me out the first time I heard that!!
Well I reckon I've droned on enough ~ knew I could lol............I have to get to bed and mentally prepare myself for facing work again!! Arrrrrrrrggggggggghhh........................
Bye for now xx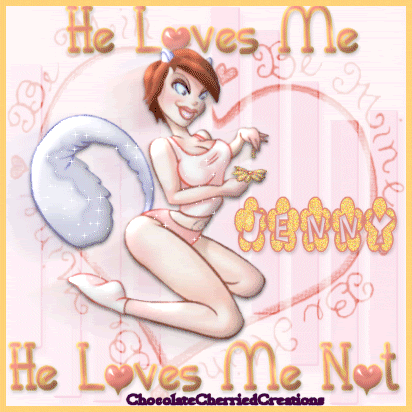 Thanks to Chocolate Cherried Creations for my graphic xx Very apt for today lol