Hiya everyone :-)
I was gonna start this entry off with a nice peaceful graphic but I've changed my mind so you get this one instead............
Isn't he cool?? Look at him go............lol
So how's your week going?? Mine is very blah!! I still need a damn good cry but it's not coming ~ so to cheer myself up I've been buying things on Ebay this evening ~ probably only a temporary measure but hey, who cares lol I've purchased Cujo on DVD as I'm about 5 pages away from the end in the book (so I know the dog dies before any of you say anything in the comments ;-) I'm also bidding on something else but we'll have to see how that goes!!
I've also purchased two items for Trina's christmas presents :-) I can't say too much as usual coz she reads this and if I don't tell I've updated it, she has a moan at me!! I've told her that I have an idea for next years present though.........can't do it for this year coz I reckon it needs about 12 months worth of planning lol
I'm currently typing up the next big adventure that I had this year so until that's finished you get the odd bits and pieces and some photos from those days ~ hope you like them...........
What else is there to tell you about before I go on with the adventure thingys...........work is boring and we had a team meeting today ~ I don't know why they bother I never listen to them! We're all awaiting the results of the job evaluation and up until today I've figured that we'll all stay the same scale but I started thinking what if we go down?? There's no question that we'll go up a scale it's not that much of a demanding job.........but we could go down!! What do I do then?? I'm sure I'd cope but I wouldn't go out and spend as much as I'm able to now!! It's not agreat loss just got me thinking that's all...........
There's not much else to talk about ~ well I could go on about the 'greatest drummer debate' but I don't wanna bore you rigid ~ I tell ya some of the things that go on in my head it's no wonder they haven't locked me up in the padded cell by now ;-)
So as I have no news and feelin' very blah and can't beat my own score on Packets @ Kafka I'm going to leave you here with some short adventures LOL Enjoy xx
RANDOM STUFF
29th July – Spent day with Trina (surprise, surprise) went to Paignton for the day and sat on the beach listening to my mp3 player – good day
4th August – Day off with Trina spent doing nothing – went to pub in the evening for a meal and on the Saturday all 3 of us went to Paignton – attacked by seagull, cut on finger and lip bleeding went to see Disney Pixar's movie Cars – v.good. Also spent time in the fair – bumper cars and the other two went on one. Whilst I was watching all I could hear was Trina screaming lol……… They also played Crazy Golf. I took scores.
12th August – went to visit mum in Teignmouth. Spent all afternoon playing catch with Meggy, took great pic of her with ice cream all around her mouth but deleted it by accident before saving it to the computer When on the way home – waited for a train which didn't turn up Damn trains!!
That seagull thing is very true and now I hate all low flying birds - I literally panic when there's one near me and it's not doing anything but I swear that when I walk near it, it's gonna take off and hit me in the head or something!! Go on laugh I dare ya!! It's not funny and to think I used to want to come back as a bird ~ it would have to be one of the smaller variety me thinks!!
Right I'm off to finish Cujo :-)
Bye xx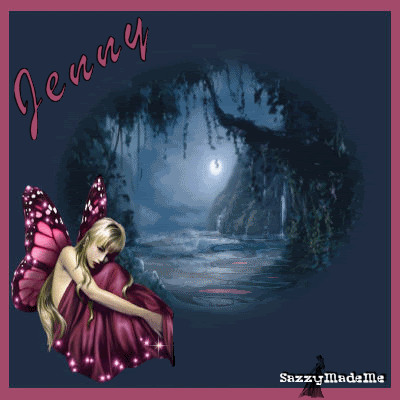 Thanks for this beautiful sig Sazzy xx