Hiya Everyone - isn't that a lovely graphic by Donna @ D's Designs?? I thought it was beautiful :-) Anyway hope your all ok today ~ here in my flat today it was snowing, yep snowing just here in my flat..........Ok it wasn't really!! I had received a card from lovely Sara and she'd included 3 snowflakes. They have decorated my computer :-) Thanks Sara xx
I've had another packet from Royal Mail tried to be delievered today. I'm going to pick them up tomorrow after I finish work at 12pm (woohoo!!) sorry can't wait for a week off work.........how divine!! Mind you we haven't really done any work today *tut tut* team leader was sent a link for quizzes --- click there if you want to have a go!! I started the sweet wraper one at lunchtime and in the end it turned into a team effort with P and teamleader helping me. That's pretty much all we did in the afternoon and P gave us the answers to the quiz she set ~ Part two coming up for you guys and I shall post part 3 tomorrow!!
Another great graphic this time provided by Chris at Cabs creations :-)
I can't believe how much I have to do tomorrow. I'm hoping to go up to Mum's on Saturday ~ don't know what time yet but there's no rush not really. I have to go food shopping coz no doubt Boxing Day I'll wanna pig out and if I haven't got anything in I shall be slightly annoyed!! I want to colour my hair again. The women's loo mirror at work is not being kind to me ~ showing me all my grey hairs in such a bad light. It looks SOOOOOOOOOOOOOOOOOOOO bad at the moment that's why I have to do it again :( Never mind!!
Jeez can you believe how cold it is tonight?? Ooooo well done to Jan for realising I was the one in the blue dress and blonde wig :-) It was such a shame I didn't meet roger that night ~ I reckon he has a penchant for blondes...................
Anyway I don't know what else to say (I did have something disgusting to share with you all but as it's nearly xmas perhaps I won't!!)
I just want to take this opportunity to ask you to be kind and go share your sympathies and condolences with Jayne @ Single Girl as she lost her mum on Monday. We all knew how ill Jayne's mum was and I'm sure this must be so difficult for her. Please stop by her journal to let her know we're thinking about her :-) Thanks peeps xx
Right here's the next part to the quiz ~ tonights section is Xmas TV. Have a go and don't forget to EMAIL ME your answers ;-) So far Ainsley's in the lead. Can you do any better?? Don't forget the panto anagrams on the last entry............Good luck xx
1) Look at the next season
2) Robbers in a hot place
3) A dozen naked females
4) Two cans and yourself
5) 1953 road
6) Light the forest
7) Not pretty Elizabeth
8) Not a Primary performance
9) Brunel's kids
10) Teaching lady from the corner shop
Good luck with those xx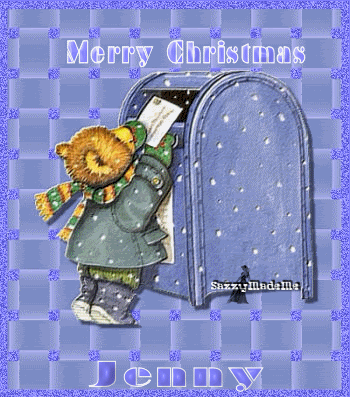 Thanks Sazzy for the sig xx