Hi Everyone ~ Figured it was time to update!! I was gonna upload my xmas piccies but unfortuantely my camera has run out of battery :( I shall try and get a new one soon and share them with you though!! Wouldn't want you thinkin' that your missing out on something would I?? ;-)
So it sounds like you all had a good xmas which is lovely to see! Mine wasn't too bad ~ as you know mum has broken her wrist and so I had to help out but as it turned out I didn't have to do too much. Megan is her little nurse maid helping her to get dressed etc...... I wondered where mum would be without her and it's another sure fire sign that my ickle sis is growing up fast!!
The only problem that faced me was peeling the spuds. Avid readers to this journal will know that I use a proper potatoe peeler and I often chop my fingernails off with it at the same time ~ mum doesn't possess such a thing and I had to use a knife. I was very nervous I had images of me in hospital with a bandaged finger or something. I managed it in the end though and they turned out quite well :-)
Xmas day went okay ~ Meggy had a bit of a moan at the beginning of the day but otherwise it was fine. I think she loved her pressies she didn't really say!! (She loved her birthday pressie though!!) I got: some money, a new top for work, necklaces, a teddy bear, chocolate, a diary, and other stuff I'm sure!! My mum loved her watch and necklace that I gave her *yay* Eventually my brother turned up. I asked to go and see what he'd got me ~ he'd had to leave it in the boot of his car!! It was a new computer

He informed me that it had about 3 hard drives and can burn DVD's and CD's ~ I am estactic with it (which is the good news!!) The bad news is it keeps crashing on me :( damn it!! I have a feeling there is something wrong with one of the programmes coz no sooner have I opened it than the computer is telling me there's an error!! Anyway stop moaning jen!! My bro had built this for me ~ isn't that cool?? It's a lot quieter than my last one and has lots of space for my music ;-) I downloaded my first album the other day tee hee hee!! I was very impressed with myself.
The rest of xmas day went by quietly. Well apart from my mum trying to have a conversation with me with her headphones on. Oh and my bro shouting at mum's computer and then at mine later!! Still never mind.............................
Boxing day I didn't do anything worth mentioning apart from eat too much!! I spent the majority of the day watching Three Men and a Baby, then later Three Men and a Little Lady (both I'd borrowed from mum) hadn't seen them in years!!
Wednesday I went to Trina's for Xmas day num 2 :-) We exchanged pressies as soon as I got there. I gave her a locket that says on the back 'Best Friends are like four leaf clovers, hard to find, lucky to have :-), Taylor Hawkins and the Coattail Riders cd, (she loves him) and a calendar that I made from photos of the events of this past year. She loved them and I managed to reduce her to tears yet again ~ go me!! tee hee hee............this years theme was get her anything not on the list!! God knows what I'll do next year!!
They gave me many cd's, DVD's chocolate and the BEST GIFT EVER!! I knew I was getting it but I didn't realise how fabby it was gonna be!! Yep that's right peeps they got me Guitar Hero II with Guitar for the Playstation 2

How happy am I?? I now have an instrument to help me air guitar properly ;-) By the way I'm not very good at it but I'm off for more practice in a bit ~ I'm hooked lol
We also visited the Model Village about lunchtimeish to see the snow and then later to see the minilluminations. It was fab and I shall post the pics for you guys to see how great it was.
She cooked a xmas dinner for me and then I ended up staying the night which hadn't been planned but it was a good laugh!! We were watching some countdown of the best 80's tunes and saw a new interview with Rog that we hadn't seen before which was very nice :-) He looked mighty fine ladies!! *girly giggle*
Well I won't drone on any longer and I'll hopefully do another entry tomorrow to show the piccies.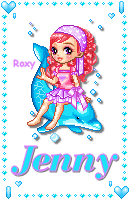 A pressie from Shelly aka Roxy ~ thank you xx (if i've spelt your name wrong I apologise profusely)!!