Hope you all had a good Easter :o) Sorry this entry is later than normal. Last night I couldn't be bothered to type an entry and tonight you can blame Top Gear Ground Force ~ did any of you watch it? God it was soooooooooooo funny!!!!
Anyhoo.............I've not really done much during this lovely four day weekend but i shall try and pad this entry out somehow lol........ Thanks to those of you that reckoned I was tired......I think you were probably right.
Unfortunately I didn't get much chance of a lie-in on Friday morning either :( But Thursday evening instead of doing my food shopping as planned I came home and rested...........Well I deserved it!! We had received the accounts on Thursday and had to get the Direct Debit's out as soon as possible. Plus I had to help J whose not had dealings with Direct Debit's yet!!!
Anyway Friday I made my way down to Trina's and was there by 9.40am. Well it was either that or 11.30am!!! Silly train service. Anyway I made myself comfortable and she made me a sausage sandwich and we talked about the QPR tour :o) We have decided we are gonna hopefully go to:
Wednesday 24 September Paris Bercy FRANCE
Wednesday 1 October Munich Olympiahalle GERMANY
Thursday 2 October Mannheim SAP Arena GERMANY
Friday 10 October Nottingham Arena
Saturday 11 October Glasgow SE&CC
Monday 13 October London 02
Tuesday 14 October Cardiff Arena
Thursday 16 October Birmingham NIA
Saturday 18 October Liverpool Arena
Saturday 1 November Vienna Stadthalle AUSTRIA
So there you go ~ quite a list but of course this is all subject to change depending on Trina's IVF treatment and another band who may or may not do a gig that I shall be attending (that was a short note for Trina who knows what I mean ;-) Wayne was a hunny for the weekend even though he's ill he made us cups of tea/coffee and offered to pay for all 3 of us to attend a small Foo gig if one appears :o) Bless his cotton socks.
So after food and talking about QPR and watching stuff, Trina and I got their bikes out and attempted to cycle to her work place and back. All for research purposes of course. Going there wasn't too bad as the majority of it was downhill. Coming back wasn't so much of a laugh...........first my jeans snagged on the thingy by the chain :( Then it pelted down with rain (or as Trina and I told Wayne, we got caught in a tornado and there was a volcano and everything) ;-) Needless to say we did break several times but Trina bless her, cycled there and back without getting off and walking! Can't remember how long it took us, but I have told her with practice it would get better and easier.

We spent the rest of the day watching rubbish on TV and I pigged out on my one and only easter egg (Thanks trine xx) and she cooked us a roast, which was very nice!
The next day we got up fairly earlyish and after breakfast went into town. With the Queen Convention this weekend we needed some extra bits and pieces towards our costumes for the Halloween theme and Drag Kings and Queens. I can't believe I spent £12.99 on a hat!!!!!!!!!!!!!!! Trust me though, it is a hat to die for :o) Well I like it and as I have to wear it, then that is a bonus. I'm afraid there are no photos you shall have to wait until next week and you'll see me in full fancy dress gear ;-)

We managed to get a few bits and pieces but unfortunately the Halloween theme is gonna be a let down for me. I could've done better if I had thought about it but unfortunately I haven't!! Doh!!!!
We brought some cakes and then made our way back to Trina's. After a cup of tea/coffee we did our food shopping and then back to mine. Wayne played Guitar Hero and Trina and I played computer games, especially when Match of the Day was on!!
They went home not long after that!
Sunday I didn't do much, cleaned the flat and changed the bedding. I watched The Incredibles and some stuff on TV, but other than that I've been on the interweb playing computer games *tut tut*

Today was pretty much the same, although I did finish my book and i love it when that happens :o) That means a change of book and a change of bookmark. I collect bookmarks but I'm not enfatic (sp) about it lol........it's just if I visit somewhere that sells them I will buy one.
Got up, washed up after last nights cook from fresh garlic kievs. Not great, probably too much filling and wasn't that hungry :( Then watched Robots (first time), have to say it's very good and definitely worth a watch :o)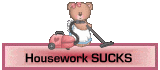 Then I walked to Sainsbugs for chicken, curry sauce and rice (bet you can't guess what I had for tea tonight LOL and came home and watched the Princess Diaries *rolls eyes* I must've seen that movie about 3/4 times now and I still like it *blushes* it's a good chick flick and before you ask yes I have seen the sequel lol
Rest of the day was internet surfing and watching more stuff. So there you go you are caught up.
Oh, I forgot on Thursday I saw that my overflow pipe was leaking again, yesterday when I changed my bedding and went into my water tank bit I noticed that's leaking again too :( However, I have not rung the agent as it seems to have stopped but I am keeping my beady eye on it................
and my neighbours gone back to his door slamming antics ~ marvellous!!!!!!!!!!!!
Well I hope you have a good week.........I'm only working 2 and half days WOOHOO!!
Should be a good 'un.........