Heywooooo everyone :o) So second time lucky *touches wood* I can't believe how flippin silly I was grrrrrrrrrr...god knows what I pressed to make me loose the entry but here I am a sucker for trying again LOL.........
So I was saying that I don't have any news and thought I would post the random pics I've been taking on my mobile and some have been sent to me from Trina ~ more about that later.
Firstly I wanted to tell you about Thursday! I am usually moaning about my job but I thought for a change I would tell you about the fab day I had on Thursday. It started off well with a bacon sarnie :o) Mind you I had to pay £1.50 for the privilege and there's a temptation to have one again this week damn it!! Anyway then at some point during the morning I received a phone call, answered it as my usual cheery self *yeah right lol* and the bloke on the other end asked to speak to me. This is not uncommon seeing as how I'm the only one whose ever there and letters are going out in my name lol......so I prepared myself for the usual "your-wrong-and-I'm-right-and-we-don't-have-to-pay" conversation and instead he said 'I'm Mr blah blah and I wanted to thank you for sorting out Mrs blah blah's account and thank you for the cheque you have sent.' To say I was stunned is an overstatement.............nobody EVER does that!!!! I wanted to tell everyone in the office that he'd rung me up to compliment me, but I managed to save it and only tell a couple.
Later in the day I had to ring a funeral directors which I've never had to do before but they were very helpful :o) We had cakes coz one lady was retiring that day, and I wrote a letter to someone who had rung me up saying I was wrong and he was right when in fact it was the other way round and I had proof :o) So a good day was had by me and now shared with you all!!
I didn't spend the weekend running here there and everywhere as the weather was just too awful :( I did spend Saturday shredding though and in amongst my shredding there wrapped in a receipt was a 5 pound note!! Woohoo I'm rich ;-)
SundayI watched more Cutting It thinking the 4th series isn't very good and I'm up to the 3/4 episode and I've never cried so much over a TV programme in all my life LOL Then I did go for a walk as we had a break in the rain and went to Matalan in search of pin stripe trousers but had no luck!! Need them for the gangsta outfit for the convention, should be good :o) Trina and I are gonna hit the shops on Saturday (with no money) to see if we can come up with some final ideas for Halloween costumes which we also need for the convention!! We have head gear and party packs but nothing to wear lol....I bet that created some lovely images for you all lol...........
Oh and I wanna moan about my bike coz last time I did that bicycle repair man turned up!! My bike was REALLY bad on Friday night. So bad I almost had to get off and push it round to Sainsbugs coz it's missing the link every peddle I made!! I think some of the cars were getting annoyed with me, but probably coz there was a diversion in place and I was in their way *evil laughter*
Anyway enough of me rambling about nothing so let's ramble about the piccies :o)
1, 2 & 3 - obvious enough!!
4 - to hide the cables on my computer desk I thought I could use my flag to cover them!! I just need to buy another one now to put over the TV when I'm not using it, hopefully I can find a Queen one at the convention :o)
5 & 6 - I've been taking pics of my fresh cook sunday meals to send to Trina. So that's them. This weeks was Lasagne and I have to say it was quite nice and didn't take very long at all :o)
7, 8 & 9 - These are from the Virgin Radio website! I logged on there as a VIP at some point and coz I've been using it I am now showing up as one of the four top fans for T'Chiefs, Foos and Queen ~ yay me :o)
10 through to 17 - Ok bare with me there is a story behind this!! Whose seen Ice Age? Well I have a teddy of the mammoth from the film which I found in a bargin bin at WHSmith and thought he was alonebut he wasn't. Still I brought him anyway coz I think he was a £1 or something like that. Anyway he usually sits on top of my TV until Trina came round one weekend and took him home with her when I wasn't looking. Number 10 is the first pic I got through asking me if I was missing anything. Well since then I have been getting these picture messages and it's been winding me up so I got her back!! During my lunch break on Thursday I made up a petition asking for the release of the 'mammoth one' and signed it by all these famous people..........t'chiefs signed it as did the Foos and Brian and Roger from Queen, plus some others. It was hysterical and i wished I could've been there when she opened it lol.........
Anyway long story short and all that I have bargined a way for him to come home, only Wayne was supposed to bring him into work today and he didn't coz he's ill so I get numbers 16 & 17 today :(
It's all funny really :o)
18 through to 23 are drawings by myself! I like to have a creative outlet, I write stories and sometimes when the mood takes me I draw :o) Number 18 is an idea I have for a song called Retirement, don't ask about number 19, 20 & 21 were drawn when I was on the phone to Trina one evening, 22 is from the coffee and TV video by blur, and 23 is ok but I'm not happy with the way the bloke turned out!
So there you go :o)
Oh just before I go another little moan about my neighbours. I was drifting off to sleep last night and at some point something woke me up and all I could hear afterwards was them talking...this carried on till 2.15am :( Needless to say I have not been a happy bunny today at work!! I'm not sure if I prefer the kicking in of the door or the talking to god knows what time of the night!! I know they are only talking but come on.............how thin are these walls for crying out loud!!! I must be tired coz I was falling asleep watching TV earlier LOL
Well I think I have rambled on enough for one day..............so until Wednesday take care peeps and if you celebrated today ~ Happy St Patricks day to you all xx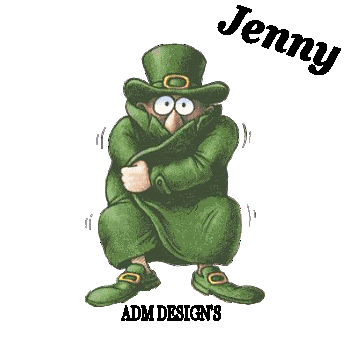 Queen tour dates are supposed to be revealed this week yay cannot wait!!!