Hi everyone :-) Let's carry on with this, there is so much to update you all with...........
HYDE PARK (part 3)
So we were awaiting for the band to come on stage! Got talking to quite a few randoms, the couple in front of us were foreign and he'd come to see Queen and they were going to the park the next day for his girlfriend to see REM LOL.......they then started talking in Hebrew (or so I was told!!) Later we were talking to the young guys behind us coz they wanted to put their bag in between us!! At some point some person stood up so that was it everyone else did too but I couldn't work out why, there was still an hour before the first band came on stage!! Here's a pic taken of us at the barrier taken by Isabelle: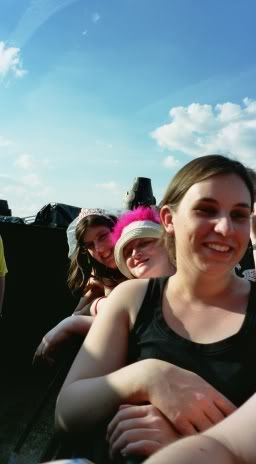 That's Rosie, me and Trina of course :-)
Eventually after quite a wait in this sunshine, the amarillo video started playing on the big screens but a technical hitch meant that it delayed it further grrrrrrr........Later it was played again, this time with sound :-) It was like the cock-ups of the video and they did show Roger and Brian which was cool!! Then he appeared on stage, good ol' Peter Kay. Here's a pic: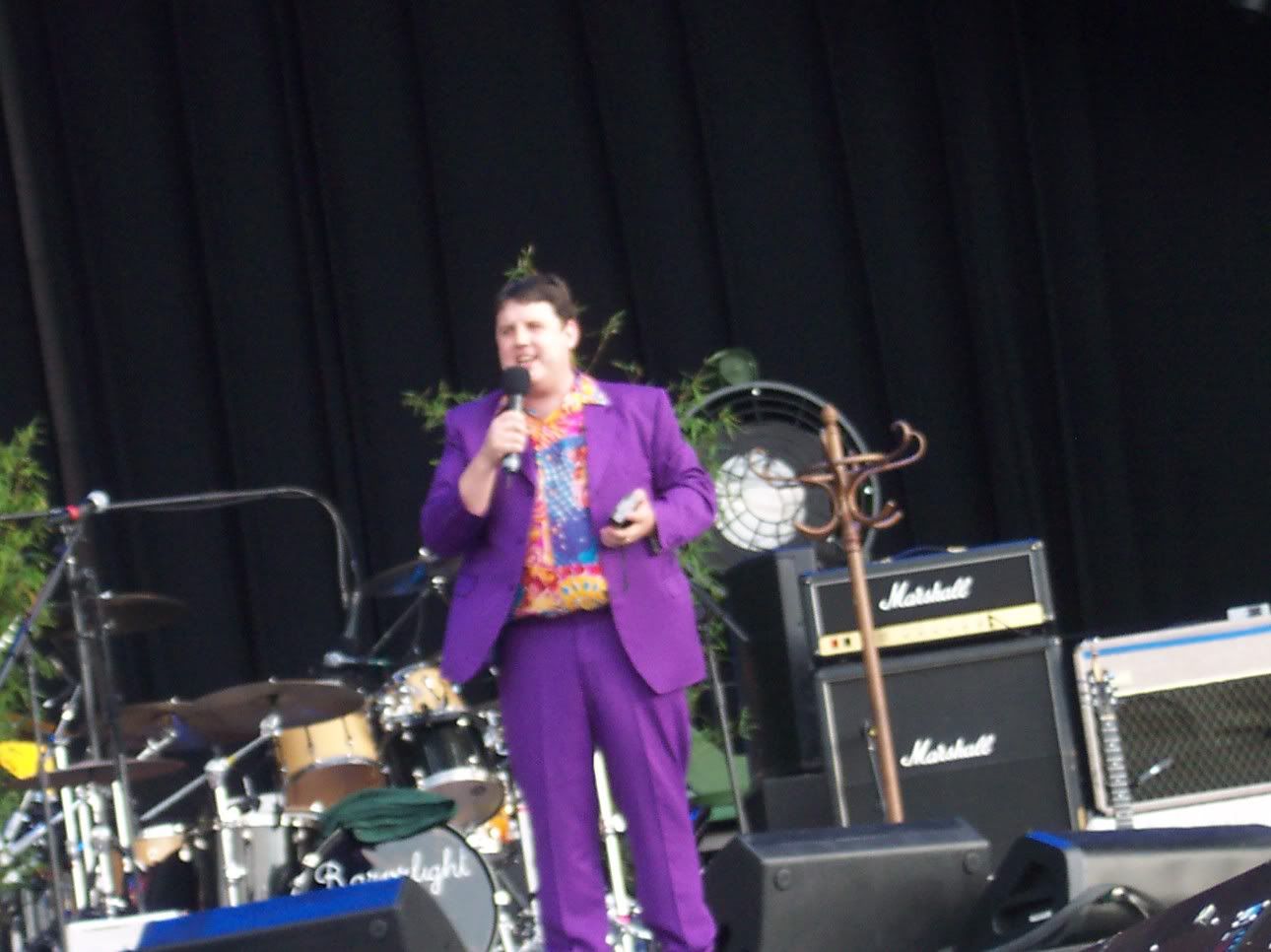 I love Peter Kay and he didn't disappoint me!! First he took the camera off one of the blokes on stage and started filming the crowd. We saw all our mates on the screen, Sarah, Alessia and that gang, James on the other side of the stage, Jules and Vern it was really funny :-) He then got his tape recorder out and played snippets of songs that he thought said different things.........such as: *starts tape* 'But a cold wind blows, and a dark rain falls, and in my heart it shows......' *stops tape* Peter Kay says 'I'm sure it says 'Look what they've done to Mike Reid' (at this point I'm nodding turning to Trina, saying I've always thought that LOL) *plays tape* 'Look what they've done to Mike Reeeeeeeiiiiidddd' (one vision - queen) LOL...... He did quite a few songs like that, and then introduced Razorlight. Was not looking forward to them........All I can say is the drummer is quite good but overall they didn't make me wanna rush out and buy their album. Here's a pic: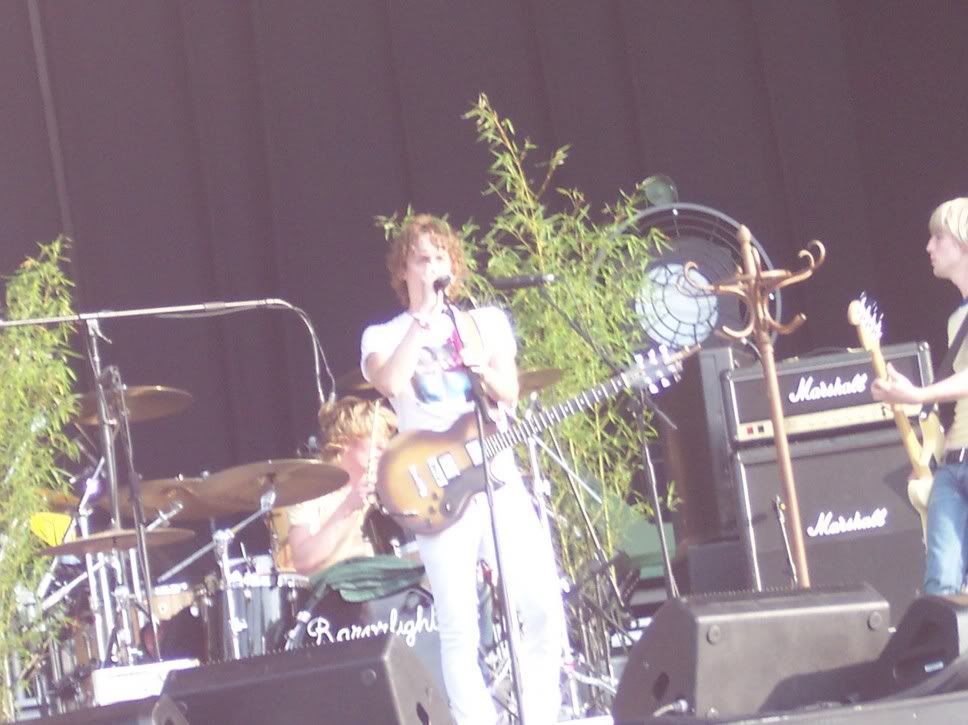 His t-shirt had a Freddie pic on it and for anyone that's seen Razorlight they know he takes his shirt off. This time was no exception and he threw it into the crowd. Luckily nowhere near us!! LOL......At one point Trina was like pull up your trousers and he must've heard her coz he did LOL........ They did one song that just seemed to go on forever!! I couldn't believe I was managing to stand up through their set, but I did!!
There was another break whilst they got rid of Razorlights kit from the stage. Just when we were getting bored again, we were introduced to Brian Potter. This made me laugh coz I must've been the only person within about a 20 person radius who actually knew who he was LOL............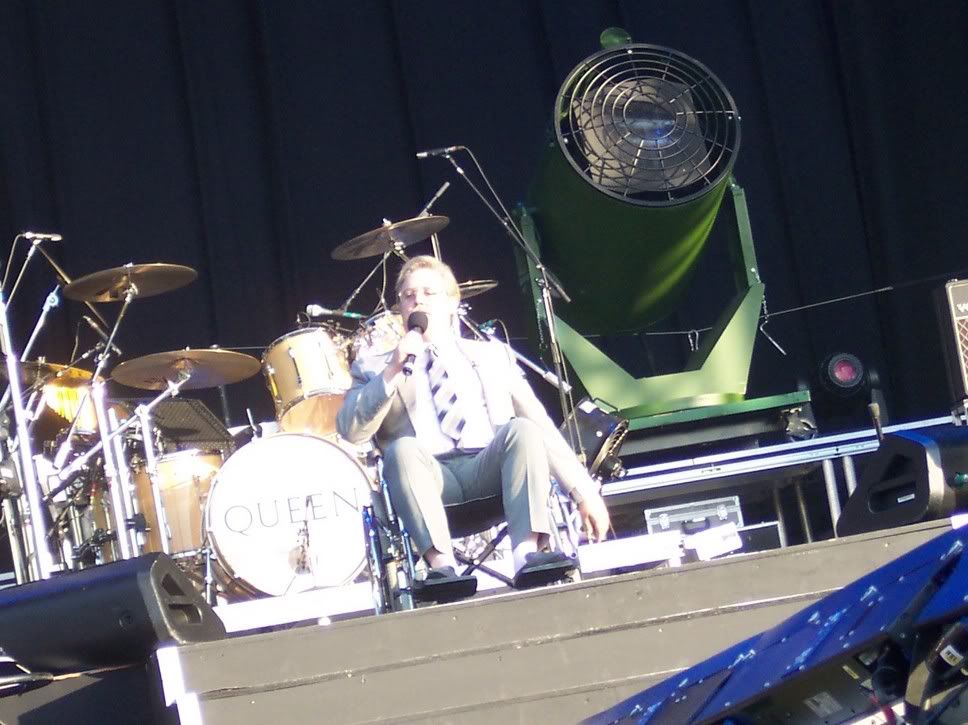 For those of you who don't know, it's basically Peter Kay, Brian Potter owned the Phoenix as in Phoenix Nights!! I was never a fan of that but my ex made me watch it once, I have to admit it is quite funny!! Anyway he started singing songs like 'Wind Beneath My Wheels' and 'You'll Never Roll Alone' LOL.....When he finished he introduced 'The Queen, well two of them anyway' LOL.........
I was ready for this, I had saved all my energy for this!! They played the Beautiful Day remix and Rosie and I looked at each other and screamed. It was just a moment where we had to do that!! Eminem's Lose Yourself and then Paul came out for Reaching Out. I was absolutely going nuts at this point!!
Claudia watch out leather trousers alert LOL.......
Here's the set list: REACHING OUT, TIE YOUR MOTHER DOWN, BREAKFREE, FAT BOTTOM GIRLS, WISHING WELL, ANOTHER ONE BITES THE DUST, CRAZY LITTLE THING CALLED LOVE, SAY ITS NOT TRUE, 39, LOVE OF MY LIFE, IMAGINE, HAMMER TO FALL, FEEL LIKE MAKING LOVE, DRUM SOLO, I'M IN LOVE WITH MY CAR, GTR SOLO,
LAST HORIZON, DAYS OF OUR LIVES, RADIO GA GA, CAN'T GET ENOUGH, IT'S A KIND OF MAGIC, I WANT IT ALL, BO RAP, SHOW MUST GO ON, ALL RIGHT NOW, WE WILL ROCK YOU, WE ARE THE CHAMPIONS
I can't really remember much about it which is a shame and I didn't make a list of all the good bits. The things I do remember though are: Everytime Paul walked past us lot we screamed out for him and he loved it. He would smile at us all the time. During Tie Your Mother Down, he was in front of us on the catwalk, but he wasn't looking at us, so I shouted 'We Love You Paul'. He heard me :-) and blew me a kiss!! *big grin* I was so chuffed, now I knew a secret formula to get his attention ;-) Trina reckoned he was like 'there you are' or something like 'what you doin' down there' but I failed to see that which is just typical!! LOL
More leather trousers for you claudia!! Roger didn't react to my screams choosing once again to look other everyone's heads!! No condoms were thrown by us but I think Sarah and the gang threw some. He made the comment expecting them to be thrown though bless him!! After Love of My Life, they played Imagine for the bombing victims. :-( Brian took a verse, then Roger took a verse and then Paul. It was so lovely, and I don't think there would've been a dry eye in the place. The lyrics were so poignant!! The rest of the gig was just flippin' brilliant, it really was the best I've ever been too and I'm glad I finished it on Hyde Park rather than Wembley!!
At the end of the gig the gang were going drinking, but Cat and I wanted merchandise. I had promised someone from my fave board I'd get her a t-shirt. We lost the gang and made our way round to merchandise. There was such a huge queue. Not long after getting there, and finding out that most of the stuff had been sold out, the stewards informed us it was closed!! I had never been so angry in all my life and would punch one of the stewards. This caused Trina and I to fall out!! Cat managed to get her Paul t-shirt so she was happy. The three of us made our way back to the hotel.
On our way out of Hyde Park we assumed trouble had kicked off inside coz tons of police vans turned up and went inside!! I expect it was coz the merchandise had shut. It wasn't fair I wanted a 'Chorley FM' t-shirt, 'where the listener comes first' LOL........Peter Kay t-shirt!! I texted the lady I was supposed to be getting a shirt for apologising profusely I felt like I'd let her down. We eventually got back to the hotel and managed to sleep better than I had the previous night.
We had to be up early the next morning. Trina and I had to be home before 12.30pm for a dress fitting. So we left the hotel without collecting our £5 key deposit and made our way to Victoria to catch the bus. Spotted a bloke wearing a Queen t-shirt on the way :-) Cat slept on the bus the whole way home. When we got to Bristol, made our way to the train station and said goodbye to Cat. Got back home and went for the dress fitting. Mine is fine I don't have to go back again, but Trina does!!
Anyway I went shopping afterwards and then spent the rest of the weekend falling out with Trina and making up again.............Certainly full of emotions that weekend..........
I'll put more photos up later :-)