Hi Everyone (2nd try at this entry!) I know I haven't updated for ages. I am still reading though so at least you all know I'm ok
Trust me everything should be back to normal the week after the wedding. I shall turn my alerts off when I'm away for the week coz unfortunately I'm not gonna have Internet access arrrrhhhh....... I have no idea what I'm gonna do with myself. LOL.............. That's the week commencing the 14th August. Anyway before I carry on with the main entry I have to say YAY I guessed when Kerry's baby was born and I was right LOL.......I'm so chuffed with myself!!
Right onwards and here's my review of Hyde Park for you all (at long last LOL) but I warn you it's not gonna be very good coz I can't really remember any of it LOL.............
15th July 2005 - HYDE PARK LONDON - Part one
It all started on the Thursday, I was very aware that I had been in this position before only for it to be all called off!! So I went to work with my backpack full of clothes. This time I was on a course and wouldn't be anywhere near a computer if something did happen. Luckily by the end of the course I'd received no texts to tell me otherwise so the nerves started setting in!! I caught the bus into town and then another one to the train station and met up with Trina. Here's a pic of her in my hat: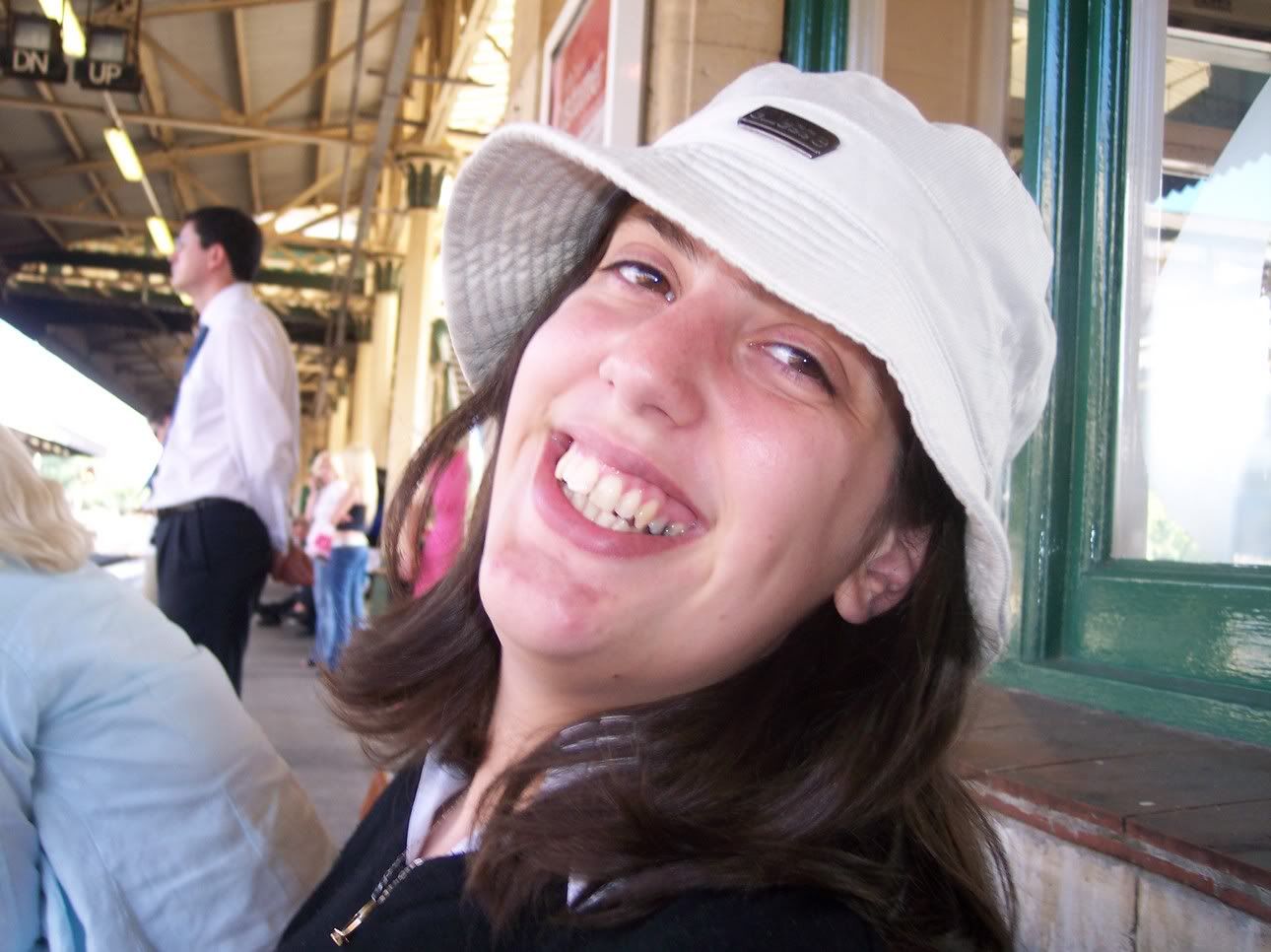 Isn't that a nice photo? :-) Both of us still in our work clothes we went to catch our train to Bristol. I was getting vague sense of deja vu as we'd gone to Bristol on the same train the week before!! We pull into Bristol and meet up with Cat and make our way to the coach station. (Cheaper than the train apparently!!) We were lucky as we'd managed to just swap everything across from the week before at no extra cost!! We got to the bus station about 7ish and I felt like I needed food and went back to Tesco's. Got lots of snacky stuff and a multibag of lollies. Caught the 8pm coach to London and there were little TV screens on board but we couldn't hear what was showing and didn't really want to. Not a big fan of Frasier and Little Britain!!
We got to London around 10.30pm and got of at Earls Court and went to catch a tube to Paddington. My A-Z told me we could catch the district or circle line from there to Paddington. Of course we couldn't though coz they had shut pretty much all the lines we wanted. So we were stood by the board trying to figure out what to do, and the map on it was pretty small so we were huddled round it and this obnoxious bloke says 'are you gonna let anyone else see it?' Git!! We decided on our route and went down to the platform. I felt extremely uneasy and it didn't help that there was loads of posters about the bombings and one said that over 60 bags left unattended in ONE week. How anyone can leave their bag unattended is beyond me!! Once on the tube Trina kept asking me if I was ok, and at one point she said I looked really pale. I couldn't help it, I felt very uncomfortable being trapped down there!
We get to Paddington and meet up with Becky and Rosie who caught the train from Bristol. We've agreed they can kip in our hotel room so we check in, take their bags with us and then go for some food. By the time we got back reception was closed so we managed to get them in ;-) It was supposed to be a triple room but the double bed was more like a single. It was so HOT in our room but it was a good laugh with the 5 of us in it!! We decided what time we were gonna get up and tried to get some sleep, queueing overnight had been knocked on the head coz Sarah had texted earlier in the evening to say she wasn't queueing overnight!!
Friday
The alarm went off at 4am. By 4.30am we were walking round to Hyde Park. Came out of the hotel, headed right and just before the turning a white van went passed and the blokes inside honked their horn at us - how cool is that at that time of the morning :-) It was a fairly long walk from the hotel to the golden circle entrance. I was kinda hoping we would be the first at that time of the morning, no such luck!! Sarah, Alessia, Jamie, Matt and James plus a load of randoms were all there! Atabout 6/6.30 Vern and Jules arrived and at 9/10ish Fairy and Funster turned up - the gang were back together again!! I don't know why but it felt different!! Maybe coz I was cold and didn't sleep a wink the night before, I just wasn't in a happy YAY Queen paul rodgers mood as this photo kinda shows!!
That's me standing up in the blue coat not looking very happy.
Would my mood improve................find out in the next entry :-)