Journallers!! Firstly I must apologise, with all these weekends away I haven't had the time to catch up on your journals. I'm getting there but it's very slowly. I don't wanna spend an entire evening just reading journals if you know what I mean!!
I figured it was about time to give you an update. I was gonna do it last night but for the first time in my life I got caught up in an Ebay auction. It closed at 12pm so I stayed up to make sure I won. Naturally some nasty person outbid me on one with 10 seconds to spare grrrr.......but I won the other - yay :-) It's only Queen stuff - nothing interesting really LOL.......I would've brought this stuff at the convention if I was going, but can't afford to go but want this stuff, so figured ebay would be the best place to go!!
I shall write a review of the gig but I don't have time at the mo, what with trying to catch up on journals and message boards, and ebay auctions!! Plus the flat is in a mess considering for the last two weekends I haven't been here!! Unfortunately I'm going out again this weekend - staying at Trina's for the Hen Night arrrrrrgggggggghhhhhhhh!! She's insisting that she's gonna get me drunk LOL yeah right she's the bride - to - be!! She's gonna get hammered LOL.........I don't get hungover and this time ain't gonna be any different :-)
Work is extremely busy at the mo!! Pauline and I are on our own coz Team Leaders on hols this week!! I couldn't get over how busy it was yesterday. We are in the middle of sending out our accounts and everyone who rang yesterday just wanted to moan. I spoke to one bloke who I thought I was doing alright with, but had to pass him over to Sandra. When I did that I welled up, which I couldn't believe but I expect this was only coz I'm tired LOL......... Today Sandra brought everyone carrot cake coz we deserved it from the busyness of yesterday!!
The gig was fantastic, but I won't go into that too much now!! Shall write a proper review soon :-) I assumed I had so much to say to you guys but I can't think of anything now so I shall share some pics that we took over the weekend instead!!
Cat, Me and Trina @ Bristol station!!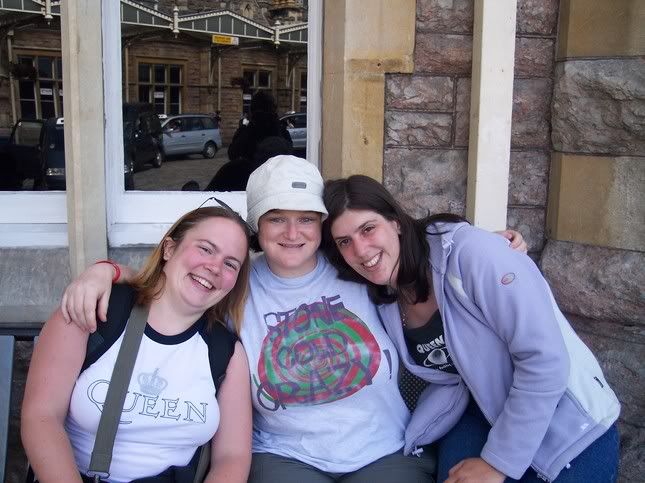 My fave shot of Paul :-)
Awwww Roger :-)
Well I expect that's wetted your apetite for more but you'll just have to wait :-P LOL
Take care everyone
Oh just before I go the guys at work were talking about the muppets - so I wanted to post this blinkie which I adore :-)
doo do doo do...........LOL