Hey everyone!! I just wanna moan about the jumped up little twat at work who is just getting more jumped up everytime I go to work which is unfortunately every day!! Today he opens the window wide first thing in the morning ~ now don't get me wrong I have no problems with someone opening the window, it was just the fact that he did not ask P or myself if we mind it being open. This afternoon he opens it wider and still doesn't ask!! He sprays his deodarant in the middle of the office, don't most people go to the loos to do that sort of thing? He's been answering calls all day and because he can't answer them he's been putting them through but he never bothers to find out whose calling or whatever!! Oooooo he's just so annoying!! I am not the only one in the office to think so which is a great relief I must say lol.............I had to get that off my chest!! Onwards and up theirs as I often say ;-)
Next morning Trina popped in to say hello and mentioned that Dave, Emma and the other girl had left. I had actually heard them ~ they were so noisy!! I'd also heard Mr Kev snoring and he was downstairs!! She also wanted to let us know that someone wasn't feeling too good but we weren't sure who that was, until we ventured downstairs for breakfast.
Organisational Trina came back into play and went round asking everyone what they wanted for breakfast and wrote down the orders. People were getting angry for her as she was running round after everyone, they thought she should sit down and do nothing. That is not our Trina though!! If she has people in her house she will wait on them, except if it's just me then she gets lazy ha ha ha……………….
After everyone had breakfast, Fairy and Kev left. Fairy had a cold and had been on tablets all week, so when she started drinking, this did not help the situation. She left wearing her pj bottoms and her boots ~ classy look!! (For those dirty minded ones out there ~ yes she was wearing a top).
We watched some stuff on TV/DVD ~ people got bored, so we played the DVD music quiz ~ people got bored and Sarah and Jamie won!! How did that happen I ask myself?? Well how was I supposed to know what Kurt Cobain had written in his suicide note!! *rolls eyes*
Anyhoo everyone was bored ~ or at least appeared to be so Sarah got her Ipod out and started singing Take That songs!! I couldn't stand to listen to them so started listening to Trina's mp3 player.
Trina made an executive decision that we should go 10 pin bowling and possibly for a meal afterwards. I wasn't sure whether I wanted to go with them or not but still went. Sarah left for the train station whilst we went down town.
The bowling was okay but the fun part happened a lot later. Jamie had, had some food, burger and chips. A small tomato had been part of her salad and this was still on the floor. I picked it up and threw it at Trina. It went down her jumper and she couldn't get it out. Talk about a flukey shot!! She did eventually manage to get it out and I can't remember who but someone decided to chuck it down the lane. It got stuck half way down so we tried sending bowling balls down to move it and it rolled over the tomato and then got stuck at the bottom. So we had to send more balls down to get rid of that one. Eventually we managed it ~ but it was very funny!!
Jamie left half way through to catch her train. The rest of us (which was now Pam, Sam, myself, Bev, Trina and Wayne) went for a meal. We went back to the car and Trina insisted that we park the car in a car park across the way ?? So Wayne went to check that it was open all night and said it was fine. So we walked through town and ended up at Pizza Hut.
If your ever in this part of Devon ~ Don't go there!! The service was appalling and when he took our orders I expected that he was gonna forget most of it which he did!! Wayne (bless his heart), kept getting up and chasing them for things that were missing. He did that about 6/7 times!! When it came to leaving we all agreed that he didn't deserve a tip, but at this point when the money was out he was most a tentative!! We walked back to the car park only to find the barrier across!! Oh dear!! They needed the car to take pam and sam back early the next morning!! Trina panicked, so we had to get a taxi back, by this point it was raining again!!
Once back the girls gossiped whilst Wayne watched the football. After that was finished we watched some other stuff and Sam filmed the cats doing stupid things whilst chasing stuff that Pam was dangling in front of them. It was very funny!! We all went to bed eventually.
Next day Trina woke me up at 8am as I was gonna go home the same time they took Pam and Sam to the airport. First Trina and Wayne had to go down and collect the car. After about 15/20 minutes we were on our way. I felt awful!! I had woken up with a sore throat which I was not amused about. It didn't take too long to get to the airport, in fact we were an hour early for their flight. I mentioned that I wanted to see the plane take off so Trina agreed we could stay. Sam and Pam made their way to the departure lounge, whilst Trina, Wayne and I went into the café for some breakfast. I had a muffin and got a shortcake thingy for later, Wayne had a bacon bap, Trina had a round of toast and 2 muffins. (Please note these muffins are not in wrapping of any kind, well apart from the cake case thingy!!)
We sat there for a while and I made jokes about the security people coz we could watch people walk down to departures from where we were sat and at one stage there were lots of security people and no passengers. The next there was a queue of passengers and one security person it was funny. Clearly a small airport can't cope!! I had finished and so had Wayne, Trina had finished but she asked what she should do about her muffins. Much hilarity followed such as her trying to put them in one of those drinks thingys. Anyway we made our way up to the viewing point and actually saw Sam and Pam get on board their plane. Morehilarity ensued as we made a joke about a bloke trying to steal her muffins and Wayne was falling asleep so he couldn't look after them and she had to take them out with her and leave them on a chair as the ground was wet. At one stage I had wanted to hide them but she noticed that I had moved far too quickly. Whilst all this was going on Bev was still at Trina's!! Their plane started up the engines and moved down the runway and went behind a building. The next time we saw it, it was in the air ~ I was not amused!!
We made our way back to the car and Trina was still carrying those muffins ~ it became a great source of laughter as she took a picture of them with her camera phone.
I came down with a cold and had to take days off work after that but it was good fun and great to see our mates!!
Well next time..................I shall leave you waiting for what is coming next ;-)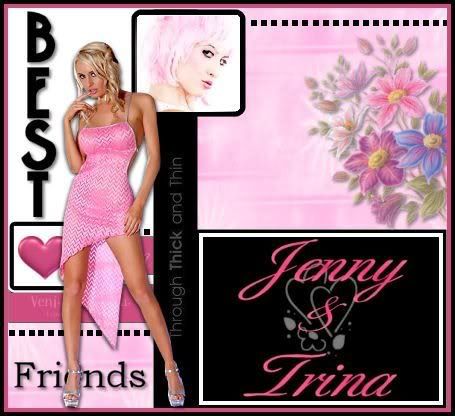 Thanks to Shelly for the Daffs and Emmi for the tag xx
P.s if you haven't already done so please stop by and give Joyce some love as she lost her mum recently. Thank you xx