Hi people
I am feeling lousy today my thoart hurts only it's not sore like a normal nasty throat it's kinda achy :( Paracetomol didn't shift it and strepsils just made my tongue numb rather than sorting out my throat :( Plus I feel really tired and have spent the majority of this weekend in bed ~ which probably hasn't helped but who cares LOL...........
I am afraid I have absolutely no motivation whatsoever to do my convention write up. I'm trying to make some brief notes at the moment to keep in mind what happened but I'm struggling with that too! Bear with me peeps ;-)

Thank goodness Easter is on it's way and that means a long weekend off work woohoo!! I do so love these enforced bank holidays LOL.....I'm hoping to go up and see Mum on the Saturday ~ note to self email mum and ask her if it's still ok.
This week has been a bit depressing to be honest. I hate coming back from the convention and being forced to live the 'normal' life again!! We had such a blast at the convention and I met loadsa new people..........which I will tell you more about in the write up, it's just it all comes back down to earth with a big bump!!

Trina and Wayne are going through a bad patch at the moment. The other day I was thinking of writing an entry which would tell you exactly what is going on in their world but I'm kinda glad I didn't, what with the way things stand at the moment I really don't think Trina would've been happy with me telling you about her private life. Sometimes though I need to vent and I was gonna do that here but I stopped myself. I guess that's a good thing really!!
Oh you'll never guess what's happened? The passport application is wrong again!! This time I had passed it to Trina to sort out so Wayne could fill out his bit etc. Well apparently I had forgotten to date it so Trina dated it for me, around about a couple of weeks ago. Wayne dated his before what Trina had written or something like that, so of course they would pick us up on that!! It's so frustrating coz I have to fill it out again!! Luckily everything else about the form was fine :-) Third times lucky I guess!!
Last night I decided to download messenger again as I hadn't got it for quite a while!! As soon as it opened up I was joined into a conversation. It ended up being quite a laugh with some of my Queenie friends and then Sam wanted to talk to me too :-) We were discussing Jacky (fanclub owner) 25th Anniversary that she's having a do for in June. Trina and I are hoping to go ~ I hope we can it'll be like a mini convention with all our mates going!! Yay!!
I have no idea what else to write and think I'm gonna leave it here for tonight. Perhaps if I get any more ideas tomorrow I'll do another entry LOL..........
Sorry peeps xx
Oh hang on I have a recommendation tee hee hee
Jen Recommends
Today I watched Dreamcatcher a film based on the book by Stephen King. I read the book ages ago and didn't think I would remember a thing but I did!! I thought the film was great and definitely worth watching :-) Damien Lewis was great playing not just his role but that of the alien too. Go rent it out and watch it!!
Till next time xx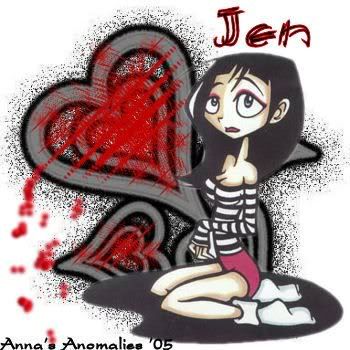 thanks to anna @ annas anomalies for the tag :-) xx