Hiya people ~ so I'm gonna start the convention entries but first i have to answer a few of the comments from the last entry!!
I am not writing my memoirs as Jan puts it ;-) Liked that though ~ gave me a chuckle!! I would've thought my blog was my memoirs lol..........I am attempting creative writing and an idea I've had for years and I literally mean years!! I don't know why I've not attempted to write more of it until now ~ just need my creative outlet I guess. I would like to take it as far as I can but who knows.......................If I can't then it'll just be for me!! I did tell you about my private journal which has some of my ideas on it and if you wanted to be added as a reader to let me know but none of you responded to that so I thought oh well.........................
@ Sara: The breakthru' train is explained in the upcoming covention entries.........enjoy people xx
Queen Fan club convention Brean Sands Somerset 23rd to 26th March 2007
For the previous 10 years the convention had always been held in a Pontins holiday camp up north. This would mean an early rise and getting on a train journey for about 4/5 hours. This never really bothered me because you knew what was coming at the end, trying to get your luggage on board however was a whole different matter which I shan't go into!! Last year was our 10th and as you may remember Trina and I rode on the 'fun' bus with Sarah, Dan, Becky and Dave. This year we didn't need to do that either as they live in Bristol, there was really no point going up there just to come back on ourselves again lol...............So this is the story of the best weekend of the year..............so far!!
Thursday I worked and the plan was that I was gonna met up with Wayne after work and he'd drive me back to their's after I stop off to get my luggage, but this changed. Unfortunately his mum had been in hospital and he wanted to go and visit her, so he did that first and picked me up afterwards!! As I was already packed and ready to go I just played some games on the computer!! About 7.45pm he turned up and we went back to Torquay and picked up some fish and chips. We spent the rest of the evening just watching DVD's and stuff.
Friday, Trina had to get up fairly early to get Wayne to work but didn't wake me up till 9am. See this is where it started to feel weird!! We'd be on a train by then if we were going up north. We were getting a lift from fellow Torquay guy Gary and he wasn't picking us up till 1.30pm. So a leisurely morning was spent having a bit of a fry up for brekkie and watching TV. Trina was getting text messages from our friends travelling down from the north to say they were on the train etc. It just felt odd all day, kinda like we weren't going anywhere and the convention wasn't really happening. Gary turned up on time and we just about managed to get our suitcases in the back of his small car. He played Queen cd's and we had a chat about general stuff ~ mainly Queen stuff. He had seen the band live at the Milton Keynes Bowl back in 82 but didn't think it was a very good concert as he didn't have a very good view. We were still utterly jealous of him though........It started off as a beautiful day but the closer we got to Somerset the clouds were rolling in. We eventually left the motorway and came to a roundabout, Gary informed us that Brean sands was like 5/10 minutes down that road but we were going to stop off in the garden centre, to meet up with Steve. It was only about 3pm by this point and the park didn't open till 4pm, so that was fine by us.
As we pulled into the garden centre we saw a bus full of elderly people and Trina started joking that will be a bus load of Queen fans and won't it be funny when we get to that age and want to run to the dancefloor when they play Man On Fire (roger track)!! Anyway we found Steve and decided to go inside and grab a cuppa and something to eat. This day was just getting odder by the minute, but we had a lovely cup of tea and some cake. Gary and Steve shared a carrot cake, Trina had something similiar called Passion Cake and I had Apple Crumble ~ it was yum!! The blokes are very into their gardening so wandered off for a few minutes to look at stuff, which gave me plenty of time to find the loo's. We eventually left the garden centre and made our way to Brean. We took a wrong turn at some point, whoops, but managed to find the site in the end. It was very odd road trying to get there, it seemed like it was gonna be in the middle of nowhere but Gary had told us all about the shops and takeaways that were nearby. It sounded promising!!
Once we got to the Pontins site a bloke directed us where to park and told us to go to the Lunars bar as that was where you had to go to check in, so that's what we did. Trina and I were looking for Dan etc, as he was in charge of our group booking!! Once we entered Lunars we got our first impression of the site and there was a smell!! Don't ask me what it was but it was there and when we spoke to our friends they had noticed it too!! Trina bless her, was so excited and sounded like she wanted everyone to pray with her in the convention greatness!! We did manage to find everyone quite easily which was surprising. Sam, Pam, Charlie and Claire were at the side waiting for Dan and Gavin to check in. Once they had done that we had to follow them to our chalet, but Gary had our luggage in the back of his car. On the way back to the cars we bumped into the rest of our troupe!! Wendy, Andy, Marianne, etc it was great to see all these guys again. Back to the car park and we managed to follow Dan's car down to our chalets and said goodbye to Gary. Luckily the group booking had chalets in a line which was good. We were in the middle sharing with Pam, Claire, Fairy and Mr Kev. I was looking forward to it!! The chalets were a lot different to the ones at Prestatyn, there was none above which seemed strange but at least we didn't have to take our luggage up any steps. The beds looked really dodgy too, no more than fancy camp beds. There was a double bed, two singles and the fold out sofa. As the beds looked dodgy Trina and I agreed to sleep on the sofa!! Everyone agreed, so Pam and Claire had the two singles and Fairy and Mr Kev had some privacy in the double bed. Fairy and Kev arrived eventually with all our food and booze, so we helped them unpack. Everyone else had gone to the shops to get food and drinks, some had already started drinking. When those people returned they started helping themselves to our food and booze (that's just the way it is at a convention!!) Some of them had badges which said 'know your limits' on them, apparently they came with condoms which someone still had one. Hilarity followed with that whilst Gavin blew it up (that sounds worse than what I meant)
As the evening wore on more and more people turned up like Gordie and Jamie. Not a lot happened worth mentioning at this point, it was just all the usual silliness and eventually we made our way over to the ballroom to see the official greeting. The kareoke was in swing when we got there and more people had turned up to say hello too. It was so nice to see them coz we don't all meet up that much. Jamie got up to sing Don't Stop Me Now, Sheila got up to sing Spread Your Wings so we all cheered them on. I took this opportunity to talk to Claire. It was her first convention and we had never met before that day but I wanted to make sure she had a good time as she's Pam's mate. Pam is lovely and Claire was too!! During our chat someone got up to sing the Proclaimers '500 miles' song. So Wendy started doing the dance, I tried to join in but it was far too adventurous for my liking so I had to sit back down again.
The disco started straight after the kareoke and the official welcome from Keith Harris. It was mainly a time to keep saying hello to people as more turned up and one in particular we had not expected to see, especially as she is pregnant. There was an odd feeling about the weekend but it was a good kind off odd as it seemed the whole gang was there and no-one was missing out!! At some point during the evening Fairy and Mr Kev went back to the chalet. The rest of us carried on drinking and dancing. I remember Man on Fire being played ~ us girls always go mad at that one and the Breakthru song was played. I have a feeling it was played twice though. I remember watching the Breakthru train. People go insane for the Breakthru train. It's a bit like a conga but a tad faster!! The second time when I watched I remember a couple people fell down!! Claire was sensible and didn't take part. I kept losing Trina throughout the night so decided to stay put in one place until she came back again. At one point when I was having a conversation with Jamie, Pam told me that Trina had rung and she'd asked if I could go and find her out by the loo's with her stuff. Concerned I made my way out there and found her with Ste. She said she wasn't feeling all that great and could I help her back to the chalet. To say that she freaked me out would be an understatement.
Unfortunately she had really bad stomach cramps and we started to make our way back to the chalet. Due to me going the wrong way to begin with, when we eventually went past the main door, we bumped in Claire and Pam who were also making their way back. We told them what was wrong and they seemed concerned too. So we got Trina back to the chalet and decided to have a brew and chat to keep Trina's mind off her illness. Claire made the brew and half way through moaned about the tea towel being left in the sink and absolutely soaking wet and who would do such a thing. (I should point out that Fairy and Mr Kev had gone to bed!!) We chatted for a while about stuff and eventually went to bed fairly early for us at a convention. Trina and I went to sleep listening to her MP3 player.
Well that's it for today xx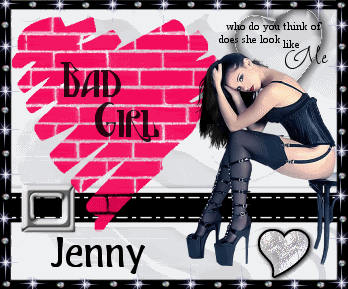 I think Emmi gave me the sig ~ thank you xx