how are you all?
I've been thinking about this entry whilst at work, and to be honest I have no idea where to start. I haven't done a proper entry since the beginning of December and there's so much to update you on that I'll be here forever!!
Instead lets just talk about xmas and new year for now and I'll update you on the rest some other time. (The Queenonline meet up for a start and seeing WWRY!! I have written out the details for that just need to copy and paste them in ;-)
So how was your xmas? I turned my alerts off but have been doing some power reading over most of the journals to find out if you had a good time :-) I finished work on the 23rd at 12 noon. What a waste of a morning that was LOL...........We had no work to do, was eating mince pies, listening to xmas music on P's cd player and trying to do a quiz I was sent by email - which I surprised myself over LOL..............Went home, packed and made my way to mums. Meggy opened her birthday pressie straight away (well it was on the 2nd December!!) Not sure if she liked it or not, it can be hard to tell sometimes but I suppose that's children for you...........
We went for a browse around the shops and to get some last minute groceries on xmas eve, and went for a meal at the pub. It was really busy and noisy - there were kids everywhere. At one point Santa made an appearance and the kids went noisier LOL.............One of Megs best mates was there and she moaned that it wasn't the real santa coz he got into a car LOL............. bless 'em!! Next thing she's telling Megs that one little girl had said that Santa was gay!! The youth of today I don't know...............*rolls eyes*
Xmas day was alright!! My bro turned up, along with mum's partner's family and it was pretty quiet. Meggy got excited with all her pressies, it was amazing to see how much she actually got!! In the evening after a game of the Simpsons thingy that she got, Bro and myself started teasing her. It was a good moment to remember, I know that sounds stupid but it was a moment of family and I just wanted to remember it!! Don't worry it wasn't horrible teasing or anything like that ;-) We wouldn't be that mean!! In the evening Bro drove me home, along with my new Hi-Fi. I didn't get it for xmas, mum just doesn't use it and said I could have it :-) I curled up under my duvet and watched some rubbish on TV.
Wednesday - I went to Trina's to swap pressies. You may remember that I had been working on Trina's which is why I couldn't post an entry!! Well I had ordered all our photos from the past year of all the events we'd been to and done. Our trip to Living Coasts, the gigs, meet-ups, the hen night, convention weekend, etc etc...........and what I did was to print out my journal entries of the memories I had written for those specific events and stuck them into a book with selections of photos from those events. Trust me it sounds rubbish being described like that but it's not honest!! It took me nearly the whole of December to get it done and by then I was up till midnight trying to get it finished and wrapped. The rest of the photos went into a photo album.
We exchanged gifts and had a lovely roast meal :-) We then went bowling which was fun, up to a certain point. (I shan't go into it coz it's just not worth it - but let's just say some kids need to grow up!!) In the evening we watched TV and it got too late for them to take me home and be back in time for Wayne to watch the footie so I stayed over :-) Even though I was not prepared!!
The next day they went shopping for a DVD recorder in the sales. Trust me if you ever get invited with a married couple to do something like that - decline gracefully!! It's THE most stressful time I've EVER witnessed!! Then I got dragged into it (only joking Trine), but I did manage to get a bagless hoover in the bargin!! (Damn I'm so broke LOL, but the hoover is sooooooooooooooo worth it ;-)
New Years Eve I went back to Trina's. Met them at the train station with Cat. We spent the afternoon eating, drinking and playing either 'Now that's what I call music' quiz or 'Bullseye'. I love the music quiz coz I can win on that ;-) LOL............At midnight we went outside and watched the fireworks and general silliness ensued!! I'll upload the photos at some point.
New Years Day - I was irritated coz I was tired (didn't go to bed till about 3.30am coz I was watching a programme about Live8!) and I was feeling depressed. Anyway it was a lovely time spent with my mates :-)
New Years Resolutions (and you can hold me to them ;-)
- Be more creative - look what I managed to achieve for Trina with some hard work and dedication, imagine what I could do for myself!
- Get a passport - if I wanna go to eurodisney I have to seriously get one this year and who knows perhaps I could go to germany and meet my internet mates :-)
- Get fit and lose weight - who doesn't put that down?? I've really gotta try my best though - well not until the xmas food has gone ;-)
- Try to find a new job - where I am now is ok but it's no career!! I just wanna find a more administrative post rather than finance related.
Well I hope you all had a good time and I'm sorry this is such a long entry!
That's pretty much brought you up to date - I shall post the photos another day.
Take care & best wishes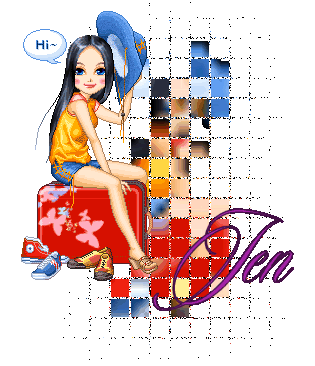 xx